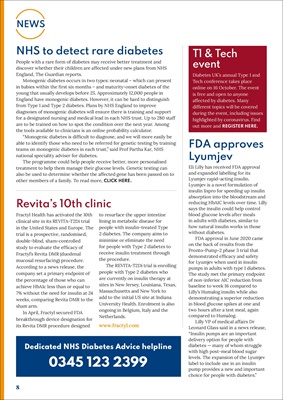 8
NEWS
Dedicated NHS Diabetes Advice helpline
0345 123 2399
NHS to detect rare diabetes
People with a rare form of diabetes may receive better treatment and
discover whether their children are affected under new plans from NHS
England, The Guardian reports.
Monogenic diabetes occurs in two types: neonatal - which can present
in babies within the first six months - and maturity-onset diabetes of the
young that usually develops before 25. Approximately 12,000 people in
England have monogenic diabetes. However, it can be hard to distinguish
from Type 1 and Type 2 diabetes. Plans by NHS England to improve
diagnoses of monogenic diabetes will ensure there is training and support
for a designated nursing and medical lead in each NHS trust. Up to 280 staff
are to be trained on how to spot the condition over the next year. Among
the tools available to clinicians is an online probability calculator.
"Monogenic diabetes is difficult to diagnose, and we will more easily be
able to identify those who need to be referred for genetic testing by training
teams on monogenic diabetes in each trust," said Prof Partha Kar, NHS
national speciality adviser for diabetes.
The programme could help people receive better, more personalised
treatment to help them manage their glucose levels. Genetic testing can
also be used to determine whether the affected gene has been passed on to
other members of a family. To read more, CLICK HERE.
FDA approves
Lyumjev
Eli Lilly has received FDA approval
and expanded labelling for its
Lyumjev rapid-acting insulin.
Lyumjev is a novel formulation of
insulin lispro for speeding up insulin
absorption into the bloodstream and
reducing HbA1C levels over time. Lilly
says the insulin could help control
blood glucose levels after meals
in adults with diabetes, similar to
how natural insulin works in those
without diabetes.
FDA approval in June 2020 came
on the back of results from the
Pronto-Pump-2 phase 3 trial that
demonstrated efficacy and safety
for Lyumjev when used in insulin
pumps in adults with type 1 diabetes.
The study met the primary endpoint
of non-inferior A1C reduction from
baseline to week 16 compared to
Lilly's Humalog insulin while also
demonstrating a superior reduction
in blood glucose spikes at one and
two hours after a test meal, again
compared to Humalog.
Lilly VP of medical affairs Dr
Leonard Glass said in a news release,
"Insulin pumps are an important
delivery option for people with
diabetes - many of whom struggle
with high post-meal blood sugar
levels. The expansion of the Lyumjev
label to include use in an insulin
pump provides a new and important
choice for people with diabetes."
T1 & Tech
event
Diabetes UK's annual Type 1 and
Tech conference takes place
online on 16 October. The event
is free and open to anyone
affected by diabetes. Many
different topics will be covered
during the event, including issues
highlighted by coronavirus. Find
out more and REGISTER HERE.
Revita's 10th clinic
Fractyl Health has activated the 10th
clinical site in its REVITA-T2Di trial
in the United States and Europe. The
trial is a prospective, randomised,
double-blind, sham-controlled
study to evaluate the efficacy of
Fractyl's Revita DMR (duodenal
mucosal resurfacing) procedure.
According to a news release, the
company set a primary endpoint of
the percentage of those who can
achieve HbA1c less than or equal to
7% without the need for insulin at 24
weeks, comparing Revita DMR to the
sham arm.
In April, Fractyl secured FDA
breakthrough device designation for
its Revita DMR procedure designed
to resurface the upper intestine
lining in metabolic disease for
people with insulin-treated Type
2 diabetes. The company aims to
minimise or eliminate the need
for people with Type 2 diabetes to
receive insulin treatment through
the procedure.
The REVITA-T2Di trial is enrolling
people with Type 2 diabetes who
are currently on insulin therapy at
sites in New Jersey, Louisiana, Texas,
Massachusetts and New York to
add to the initial US site at Indiana
University Health. Enrolment is also
ongoing in Belgium, Italy and the
Netherlands.