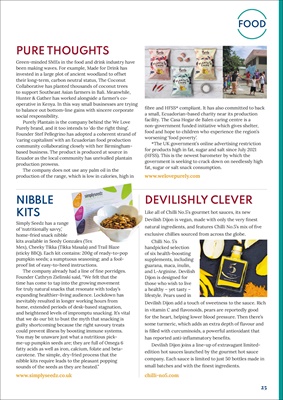 25
FOOD
PURE THOUGHTS
NIBBLE
KITS
Simply Seedz has a range
of 'nutritionally savvy,'
home-fried snack nibble
kits available in Seedy Gonzales (Tex
Mex), Cheeky Tikka (Tikka Masala) and Trail Blaze
(sticky BBQ). Each kit contains: 200g of ready-to-pop
pumpkin seeds; a sumptuous seasoning; and a foolproof
list of easy-to-heed instructions.
The company already had a line of fine porridges.
Founder Cathryn Zielinski said, "We felt that the
time has come to tap into the growing movement
for truly natural snacks that resonate with today's
expanding healthier-living audience. Lockdown has
inevitably resulted in longer working hours from
home, extended periods of desk-based stagnation,
and heightened levels of impromptu snacking. It's vital
that we do our bit to bust the myth that snacking is
guilty shortcoming because the right savoury treats
could prevent illness by boosting immune systems.
You may be unaware just what a nutritious pickme-up pumpkin seeds
are; they are full of Omega 6
fatty acids as well as iron, calcium, folate and betacarotene.
The simple, dry-fried process that the
nibble kits require leads to the pleasant popping
sounds of the seeds as they are heated."
DEVILISHLY CLEVER
Like all of Chilli No.5's gourmet hot sauces, its new
Devilish Dijon is vegan, made with only the very finest
natural ingredients, and features Chilli No.5's mix of five
exclusive chillies sourced from across the globe.
Devilish Dijon add a touch of sweetness to the sauce. Rich
in vitamin C and flavonoids, pears are reportedly good
for the heart, helping lower blood pressure. Then there's
some turmeric, which adds an extra depth of flavour and
is filled with curcuminoids, a powerful antioxidant that
has reported anti-inflammatory benefits.
Devilish Dijon joins a line-up of extravagant limitededition
hot sauces launched by the gourmet hot sauce
company. Each sauce is limited to just 50 bottles made in
small batches and with the finest ingredients.
chilli-no5.com
Green-minded SMEs in the food and drink industry have
been making waves. For example, Made for Drink has
invested in a large plot of ancient woodland to offset
their long-term, carbon neutral status, The Coconut
Collaborative has planted thousands of coconut trees
to support Southeast Asian farmers in Bali. Meanwhile,
Hunter & Gather has worked alongside a farmer's cooperative
in Kenya. In this way small businesses are trying
to balance out bottom-line gains with sincere corporate
social responsibility.
Purely Plantain is the company behind the We Love
Purely brand, and it too intends to 'do the right thing'.
Founder Stef Pellegrino has adopted a coherent strand of
'caring capitalism' with an Ecuadorian food production
community collaborating closely with her Birminghambased
business. The product is produced at source in
Ecuador as the local community has unrivalled plantain
production prowess.
The company does not use any palm oil in the
production of the range, which is low in calories, high in
fibre and HFSS* compliant. It has also committed to back
a small, Ecuadorian-based charity near its production
facility. The Casa Hogar de Balen caring centre is a
non-government funded initiative which gives shelter,
food and hope to children who experience the region's
worsening 'food poverty'.
*The UK government's online advertising restriction
for products high in fat, sugar and salt since July 2021
(HFSS). This is the newest barometer by which the
government is seeking to crack down on needlessly high
fat, sugar or salt snack consumption.
Chilli No. 5's
handpicked selection
of six health-boosting
supplements, including
guarana, maca, inulin,
and L-Arginine. Devilish
Dijon is designed for
those who wish to live
a healthy - yet tasty -
lifestyle. Pears used in