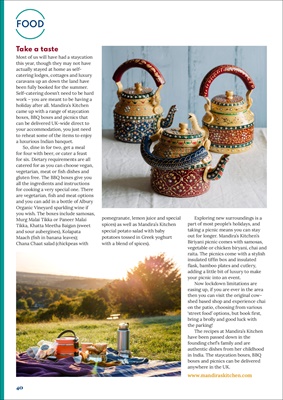 40
FOOD
Take a taste
Most of us will have had a staycation
this year, though they may not have
actually stayed at home as selfcatering
lodges, cottages and luxury
caravans up an down the land have
been fully booked for the summer.
Self-catering doesn't need to be hard
work - you are meant to be having a
holiday after all. Mandira's Kitchen
came up with a range of staycation
boxes, BBQ boxes and picnics that
can be delivered UK-wide direct to
your accommodation, you just need
to reheat some of the items to enjoy
a luxurious Indian banquet.
So, dine in for two, get a meal
for four with beer, or cater a feast
for six. Dietary requirements are all
catered for as you can choose vegan,
vegetarian, meat or fish dishes and
gluten free. The BBQ boxes give you
all the ingredients and instructions
for cooking a very special one. There
are vegetarian, fish and meat options
and you can add in a bottle of Albury
Organic Vineyard sparkling wine if
you wish. The boxes include samosas,
Murg Malai Tikka or Paneer Malai
Tikka, Khatta Meetha Baigan (sweet
and sour aubergines), Kolapata
Maach (fish in banana leaves);
Chana Chaat salad (chickpeas with
pomegranate, lemon juice and special
spices) as well as Mandira's Kitchen
special potato salad with baby
potatoes tossed in Greek yoghurt
with a blend of spices).
Exploring new surroundings is a
part of most people's holidays, and
taking a picnic means you can stay
out for longer. Mandira's Kitchen's
Biriyani picnic comes with samosas,
vegetable or chicken biryani, chai and
raita. The picnics come with a stylish
insulated tiffin box and insulated
flask, bamboo plates and cutlery,
adding a little bit of luxury to make
your picnic into an event.
Now lockdown limitations are
easing up, if you are ever in the area
then you can visit the original cowshed
based shop and experience chai
on the patio, choosing from various
'street food' options, but book first,
bring a brolly and good luck with
the parking!
The recipes at Mandira's Kitchen
have been passed down in the
founding chef's family and are
authentic dishes from her childhood
in India. The staycation boxes, BBQ
boxes and picnics can be delivered
anywhere in the UK.