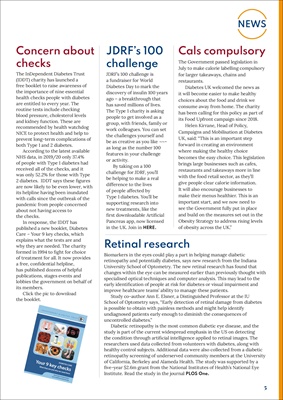 5
NEWS
Retinal research
Biomarkers in the eyes could play a part in helping manage diabetic
retinopathy and potentially diabetes, says new research from the Indiana
University School of Optometry. The new retinal research has found that
changes within the eye can be measured earlier than previously thought with
specialised optical techniques and computer analysis. This may lead to the
early identification of people at risk for diabetes or visual impairment and
improve healthcare teams' ability to manage these patients.
Study co-author Ann E. Elsner, a Distinguished Professor at the IU
School of Optometry says, "Early detection of retinal damage from diabetes
is possible to obtain with painless methods and might help identify
undiagnosed patients early enough to diminish the consequences of
uncontrolled diabetes."
Diabetic retinopathy is the most common diabetic eye disease, and the
study is part of the current widespread emphasis in the US on detecting
the condition through artificial intelligence applied to retinal images. The
researchers used data collected from volunteers with diabetes, along with
healthy control subjects. Additional data were also collected from a diabetic
retinopathy screening of underserved community members at the University
of California, Berkeley and Alameda Health. The study was supported by a
five-year $2.6m grant from the National Institutes of Health's National Eye
Institute. Read the study in the journal PLOS One.
Concern about
checks
The InDependent Diabetes Trust
(IDDT) charity has launched a
free booklet to raise awareness of
the importance of nine essential
health checks people with diabetes
are entitled to every year. The
routine tests include checking
blood pressure, cholesterol levels
and kidney function. These are
recommended by health watchdog
NICE to protect health and help to
prevent long-term complications of
both Type 1 and 2 diabetes.
According to the latest available
NHS data, in 2019/20 only 37.4%
of people with Type 1 diabetes had
received all of the checks, and it
was only 52.2% for those with Type
2 diabetes. IDDT says these figures
are now likely to be even lower, with
its helpline having been inundated
with calls since the outbreak of the
pandemic from people concerned
about not having access to
the checks.
In response, the IDDT has
published a new booklet, Diabetes
Care - Your 9 key checks, which
explains what the tests are and
why they are needed. The charity
formed in 1994 to fight for choice
of treatment for all. It now provides
a free, confidential helpline,
has published dozens of helpful
publications, stages events and
lobbies the government on behalf of
its members.
Click the pic to download
the booklet.
JDRF's 100
challenge
JDRF's 100 challenge is
a fundraiser for World
Diabetes Day to mark the
discovery of insulin 100 years
ago - a breakthrough that
has saved millions of lives.
The Type 1 charity is asking
people to get involved as a
group, with friends, family or
work colleagues. You can set
the challenges yourself and
be as creative as you like ¬¬-
as long as the number 100
features in your challenge
or activity.
By taking on a 100
challenge for JDRF, you'll
be helping to make a real
difference to the lives
of people affected by
Type 1 diabetes. You'll be
supporting research into
new treatments, like the
first downloadable Artificial
Pancreas app, now licensed
in the UK. Join in HERE.
Cals compulsory
The Government passed legislation in
July to make calorie labelling compulsory
for larger takeaways, chains and
restaurants.
Diabetes UK welcomed the news as
it will become easier to make healthy
choices about the food and drink we
consume away from home. The charity
has been calling for this policy as part of
its Food Upfront campaign since 2018.
Helen Kirrane, Head of Policy,
Campaigns and Mobilisation at Diabetes
UK, said: "This is an important step
forward in creating an environment
where making the healthy choice
becomes the easy choice. This legislation
brings large businesses such as cafes,
restaurants and takeaways more in line
with the food retail sector, as they'll
give people clear calorie information.
It will also encourage businesses to
make their menus healthier. This is an
important start, and we now need to
see the Government fully put in place
and build on the measures set out in the
Obesity Strategy to address rising levels
of obesity across the UK."