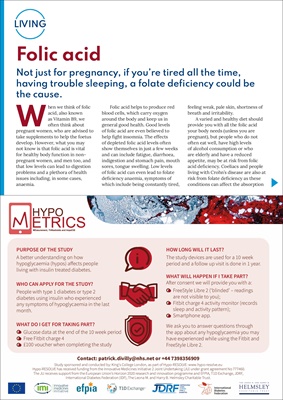 26
LIVING
Folic acid
Not just for pregnancy, if you're tired all the time,
having trouble sleeping, a folate deficiency could be
the cause.
When we think of folic
acid, also known
as Vitamin B9, we
often think about
pregnant women, who are advised to
take supplements to help the foetus
develop. However, what you may
not know is that folic acid is vital
for healthy body function in nonpregnant
women, and men too, and
that low levels can lead to digestion
problems and a plethora of health
issues including, in some cases,
anaemia.
PURPOSE OF THE STUDY
A better understanding on how
hypoglycaemia (hypos) affects people
living with insulin treated diabetes.
WHO CAN APPLY FOR THE STUDY?
People with type 1 diabetes or type 2
diabetes using insulin who experienced
any symptoms of hypoglycaemia in the last
month.
HOW LONG WILL IT LAST?
The study devices are used for a 10 week
period and a follow up visit is done in 1 year.
Contact: patrick.divilly@nhs.net or +44 7398356909
Study sponsored and conducted by: King's College London, as part of Hypo-RESOLVE: www.hypo-resolve.eu
Hypo-RESOLVE has received funding from the Innovative Medicines Initiative 2 Joint Undertaking (JU) under grant agreement No 777460.
The JU receives support from the European Union's Horizon 2020 research and innovation programme and EFPIA, T1D Exchange, JDRF,
International Diabetes Federation (IDF), The Leona M. and Harry B. Helmsley Charitable Trust.
WHAT DO I GET FOR TAKING PART?
Glucose data at the end of the 10 week period
Free Fitbit charge 4
£100 voucher when completing the study
WHAT WILL HAPPEN IF I TAKE PART?
After consent we will provide you with a:
FreeStyle Libre 2 ('blinded' - readings
are not visible to you);
Fitbit charge 4 activity monitor (records
sleep and activity pattern);
Smartphone app.
We ask you to answer questions through
the app about any hypoglycaemia you may
have experienced while using the Fitbit and
FreeStyle Libre 2.
Folic acid helps to produce red
blood cells, which carry oxygen
around the body and keep us in
general good health. Good levels
of folic acid are even believed to
help fight insomnia. The effects
of depleted folic acid levels often
show themselves in just a few weeks
and can include fatigue, diarrhoea,
indigestion and stomach pain, mouth
sores, tongue swelling. Low levels
of folic acid can even lead to folate
deficiency anaemia, symptoms of
which include being constantly tired,
feeling weak, pale skin, shortness of
breath and irritability.
A varied and healthy diet should
provide you with all the folic acid
your body needs (unless you are
pregnant), but people who do not
often eat well, have high levels
of alcohol consumption or who
are elderly and have a reduced
appetite, may be at risk from folic
acid deficiency. Coeliacs and people
living with Crohn's disease are also at
risk from folate deficiency as these
conditions can affect the absorption