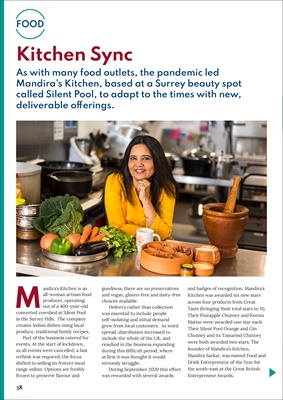 38
FOOD
Kitchen Sync
As with many food outlets, the pandemic led
Mandira's Kitchen, based at a Surrey beauty spot
called Silent Pool, to adapt to the times with new,
deliverable offerings.
Mandira's Kitchen is an
all-woman artisan food
producer, operating
out of a 400-year-old
converted cowshed at Silent Pool
in the Surrey Hills. The company
creates Indian dishes using local
produce, traditional family recipes.
Part of the business catered for
events. At the start of lockdown,
as all events were cancelled, a fast
rethink was required; the focus
shifted to selling its freezer meal
range online. Options are freshly
frozen to preserve flavour and
goodness, there are no preservatives
and vegan, gluten-free and dairy-free
choices available.
Delivery rather than collection
was essential to include people
self-isolating and initial demand
grew from local customers. As word
spread, distribution increased to
include the whole of the UK, and
resulted in the business expanding
during this difficult period, where
at first it was thought it would
seriously struggle.
During September 2020 this effort
was rewarded with several awards
and badges of recognition. Mandira's
Kitchen was awarded six new stars
across four products from Great
Taste (bringing their total stars to 11).
Their Pineapple Chutney and Keema
Mattar were awarded one star each.
Their Silent Pool Orange and Gin
Chutney and its Tamarind Chutney
were both awarded two stars. The
founder of Mandira's Kitchen,
Mandira Sarkar, was named Food and
Drink Entrepreneur of the Year for
the south-east at the Great British
Entrepreneur Awards.