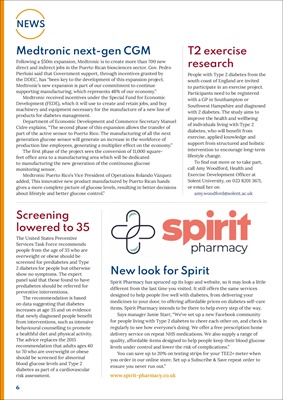 6
NEWS
Dedicated NHS Diabetes Advice
helpline
0345 123 2399
Medtronic next-gen CGM
Following a $50m expansion, Medtronic is to create more than 700 new
direct and indirect jobs in the Puerto Rican biosciences sector. Gov. Pedro
Pierluisi said that Government support, through incentives granted by
the DDEC, has "been key to the development of this expansion project.
Medtronic's new expansion is part of our commitment to continue
supporting manufacturing, which represents 48% of our economy."
Medtronic received incentives under the Special Fund for Economic
Development (FEDE), which it will use to create and retain jobs, and buy
machinery and equipment necessary for the manufacture of a new line of
products for diabetes management.
Department of Economic Development and Commerce Secretary Manuel
Cidre explains, "The second phase of this expansion allows the transfer of
part of the active sensor to Puerto Rico. The manufacturing of all the next
generation glucose sensor will generate an increase in the workforce of
production line employees, generating a multiplier effect on the economy."
The first phase of the project sees the conversion of 11,000 squarefeet
office area to a manufacturing area which will be dedicated to
manufacturing the new generation of the continuous glucose monitoring
sensor.
Medtronic Puerto Rico's Vice President of Operations Rolando Vázquez
added, This innovative new product manufactured by Puerto Rican hands
gives a more complete picture of glucose levels, resulting in better decisions
about lifestyle and better glucose control."
T2 exercise
research
People with Type 2 diabetes from the
south coast of England are invited
to participate in an exercise project.
Participants need to be registered
with a GP in Southampton or
Southwest Hampshire and diagnosed
with 2 diabetes. The study aims to
improve the health and wellbeing
of individuals living with Type 2
diabetes, who will benefit from
exercise, applied knowledge and
support from structured and holistic
intervention to encourage long-term
lifestyle change.
To find out more or to take part,
call Amy Woodford, Health and
Exercise Development Officer at
Solent University, on 023 8201 3671,
or email her on amy.woodford@
solent.ac.uk
Diabetes tech
investment
Ultrahuman has raised $17.5m in a Series B
financing round for its wearable glucose tracking
technology. The India-based company is the
developer of Ultrahuman Cyborg - a continuous
metabolism tracker designed to help people
with diabetes track blood glucose in real-time
and optimise their diet and exercise. It utilises
biomarkers to tell users how their body reacts to
a specific type of food, fuel efficiently for exercise
and eat for better sleep. The funds raised will
allow Ultrahuman to launch in more countries and
improve its life sciences research capabilities.
Meanwhile, a digital health start-up, Breathe
Well-being, has raised $5.5m in first-round
financing, which it will use to scale up a clinical
tool that helps people "prevent, manage and
reverse Type 2 diabetes". The Breathe Well-being
programme centres around a gaming-style app
that provides personalised advice on daily diet,
fitness and stress reduction while tracking steps
taken, calories eaten, calories burnt, weight, blood
glucose levels, hydration and sleep quality. It also
sets goals to improve behaviours alongside a forum
to connect with other people with diabetes and
access to a personal coach.
Screening lowered to 35
The United States Preventive Services Task Force
recommends people from the age of 35 who are overweight
or obese should be screened for prediabetes and Type 2
diabetes for people but otherwise show no symptoms. The
expert panel said that those found to have prediabetes should
be referred for preventive interventions.
The recommendation is based on data suggesting that
diabetes increases at age 35 and on evidence that newly
diagnosed people benefit from interventions, such as
intensive behavioural counselling to promote a healthful
diet and physical activity. The advice replaces the 2015
recommendation that adults ages 40 to 70 who are
overweight or obese should be screened for abnormal blood
glucose levels and Type 2 diabetes as part of a cardiovascular
risk assessment.