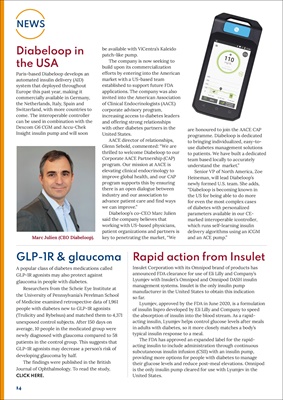 14
NEWS
GLP-1R & glaucoma
A popular class of diabetes medications called
GLP-1R agonists may also protect against
glaucoma in people with diabetes.
Researchers from the Scheie Eye Institute at
the University of Pennsylvania's Perelman School
of Medicine examined retrospective data of 1,961
people with diabetes new to GLP-1R agonists
(Trulicity and Rybelsus) and matched them to 4,371
unexposed control subjects. After 150 days on
average, 10 people in the medicated group were
newly diagnosed with glaucoma compared to 58
patients in the control group. This suggests that
GLP-1R agonists may decrease a person's risk of
developing glaucoma by half.
The findings were published in the British
Journal of Ophthalmology. To read the study,
CLICK HERE.
Rapid action from Insulet
Insulet Corporation with its Omnipod brand of products has
announced FDA clearance for use of Eli Lilly and Company's
Lyumjev with Insulet's Omnipod and Omnipod DASH insulin
management systems. Insulet is the only insulin pump
manufacturer in the United States to obtain this indication
so far.
Lyumjev, approved by the FDA in June 2020, is a formulation
of insulin lispro developed by Eli Lilly and Company to speed
the absorption of insulin into the blood stream. As a rapidacting
insulin, Lyumjev helps control glucose levels after meals
in adults with diabetes, so it more closely matches a body's
typical insulin response to a meal.
The FDA has approved an expanded label for the rapidacting
insulin to include administration through continuous
subcutaneous insulin infusion (CSII) with an insulin pump,
providing more options for people with diabetes to manage
their glucose levels and reduce post-meal elevations. Omnipod
is the only insulin pump cleared for use with Lyumjev in the
United States.
Diabeloop in
the USA
Paris-based Diabeloop develops an
automated insulin delivery (AID)
system that deployed throughout
Europe this past year, making it
commercially available in Germany,
the Netherlands, Italy, Spain and
Switzerland, with more countries to
come. The interoperable controller
can be used in combination with the
Dexcom G6 CGM and Accu-Chek
Insight insulin pump and will soon
be available with ViCentra's Kaleido
patch-like pump.
The company is now seeking to
build upon its commercialization
efforts by entering into the American
market with a US-based team
established to support future FDA
applications. The company was also
invited into the American Association
of Clinical Endocrinologists (AACE)
corporate advisory program,
increasing access to diabetes leaders
and offering strong relationships
with other diabetes partners in the
United States.
AACE director of relationships,
Glenn Sebold, commented: "We are
thrilled to welcome Diabeloop to our
Corporate AACE Partnership (CAP)
program. Our mission at AACE is
elevating clinical endocrinology to
improve global health, and our CAP
program supports this by ensuring
there is an open dialogue between
industry and our association to
advance patient care and find ways
we can improve."
Diabeloop's co-CEO Marc Julien
said the company believes that
working with US-based physicians,
patient organizations and partners is
key to penetrating the market, "We
are honoured to join the AACE CAP
programme. Diabeloop is dedicated
to bringing individualized, easy-touse diabetes
management solutions
to patients. We have built a dedicated
team based locally to accurately
understand the market."
Senior VP of North America, Zoe
Heineman, will lead Diabeloop's
newly formed U.S. team. She adds,
"Diabeloop is becoming known in
the US for being able to do more
for even the most complex cases
of diabetes with personalized
parameters available in our CEmarked
interoperable icontroller,
which runs self-learning insulin
delivery algorithms using an iCGM
and an ACE pump."
Marc Julien (CEO Diabeloop).