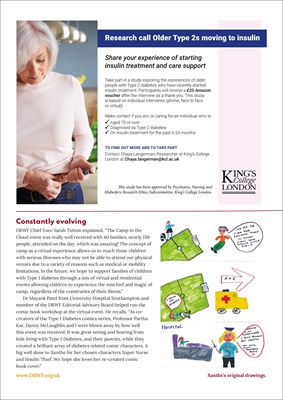 Constantly evolving
DRWF Chief Exec Sarah Tutton explained, "The Camp in the
Cloud event was really well received with 40 families, nearly 150
people, attended on the day, which was amazing! The concept of
camp as a virtual experience allows us to reach those children
with serious illnesses who may not be able to attend our physical
venues due to a variety of reasons such as medical or mobility
limitations. In the future, we hope to support families of children
with Type 1 diabetes through a mix of virtual and residential
events allowing children to experience the mischief and magic of
camp, regardless of the constraints of their illness."
Dr Mayank Patel from University Hospital Southampton and
member of the DRWF Editorial Advisory Board helped run the
comic book workshop at the virtual event. He recalls, "As cocreators
of the Type 1 Diabetes comics series, Professor Partha
Kar, Danny McLaughlin and I were blown away by how well
this event was received. It was great seeing and hearing from
kids living with Type 1 Diabetes, and their parents, while they
created a brilliant array of diabetes related comic characters. A
big well done to Xanthe for her chosen characters Super Nurse
and Insulin Thief. We hope she loves her re-created comic
book cover."
www.DRWF.org.uk Xanthe's original drawings.