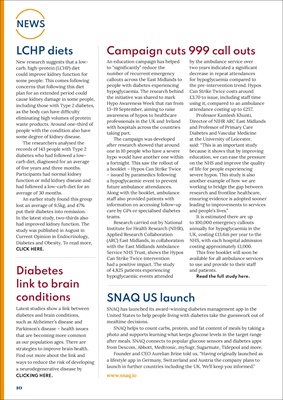 10
NEWS
LCHP diets
New research suggests that a lowcarb,
high-protein (LCHP) diet
could improve kidney function for
some people. This comes following
concerns that following this diet
plan for an extended period could
cause kidney damage in some people,
including those with Type 2 diabetes,
as the body can have difficulty
eliminating high volumes of protein
waste products. Around one-third of
people with the condition also have
some degree of kidney disease.
The researchers analysed the
records of 143 people with Type 2
diabetes who had followed a lowcarb
diet, diagnosed for an average
of five years and three months.
Participants had normal kidney
function or mild kidney disease and
had followed a low-carb diet for an
average of 30 months.
An earlier study found this group
lost an average of 9.5kg, and 47%
put their diabetes into remission.
In the latest study, two-thirds also
had improved kidney function. The
study was published in August in
Current Opinion in Endocrinology,
Diabetes and Obesity. To read more,
CLICK HERE.
Diabetes
link to brain
conditions
Latest studies show a link between
diabetes and brain conditions,
such as Alzheimer's disease and
Parkinson's disease - health issues
that are becoming more common
as our population ages. There are
strategies to improve brain health.
Find out more about the link and
ways to reduce the risk of developing
a neurodegenerative disease by
CLICKING HERE.
Campaign cuts 999 call outs
An education campaign has helped
to "significantly" reduce the
number of recurrent emergency
callouts across the East Midlands to
people with diabetes experiencing
hypoglycaemia. The research behind
the initiative was shared to mark
Hypo Awareness Week that ran from
13-19 September, aiming to raise
awareness of hypos to healthcare
professionals in the UK and Ireland
with hospitals across the countries
taking part.
The campaign was developed
after research showed that around
one in 10 people who have a severe
hypo would have another one within
a fortnight. This saw the rollout of
a booklet - Hypos Can Strike Twice
- issued by paramedics following
a hypoglycaemic event to prevent
future ambulance attendances.
Along with the booklet, ambulance
staff also provided patients with
information on accessing follow-up
care by GPs or specialised diabetes
teams.
Research carried out by National
Institute for Health Research (NIHR),
Applied Research Collaboration
(ARC) East Midlands, in collaboration
with the East Midlands Ambulance
Service NHS Trust, shows the Hypos
Can Strike Twice intervention
had a positive impact. The study
of 4,825 patients experiencing
hypoglycaemic events attended
by the ambulance service over
two years indicated a significant
decrease in repeat attendances
for hypoglycaemia compared to
the pre-intervention trend. Hypos
Can Strike Twice costs around
£3.70 to issue, including staff time
using it, compared to an ambulance
attendance costing up to £257.
Professor Kamlesh Khunti,
Director of NIHR ARC East Midlands
and Professor of Primary Care
Diabetes and Vascular Medicine
at the University of Leicester,
said: "This is an important study
because it shows that by improving
education, we can ease the pressure
on the NHS and improve the quality
of life for people experiencing
severe hypos. This study is also
another example of how we are
working to bridge the gap between
research and frontline healthcare,
ensuring evidence is adopted sooner
leading to improvements to services
and people's lives."
It is estimated there are up
to 100,000 emergency callouts
annually for hypoglycaemia in the
UK, costing £13.6m per year to the
NHS, with each hospital admission
costing approximately £1,000.
This free booklet will soon be
available for all ambulance services
to use and provide to their staff
and patients.
Read the full study here.
SNAQ US launch
SNAQ has launched its award-winning diabetes management app in the
United States to help people living with diabetes take the guesswork out of
mealtime decisions.
SNAQ helps to count carbs, protein, and fat content of meals by taking a
photo and supports learning what keeps glucose levels in the target range
after meals. SNAQ connects to popular glucose sensors and diabetes apps
from Dexcom, Abbott, Medtronic, mySugr, Sugarmate, Tidepool and more.
Founder and CEO Aurelian Brine told us, "Having originally launched as
a lifestyle app in Germany, Switzerland and Austria the company plans to
launch in further countries including the UK. We'll keep you informed."