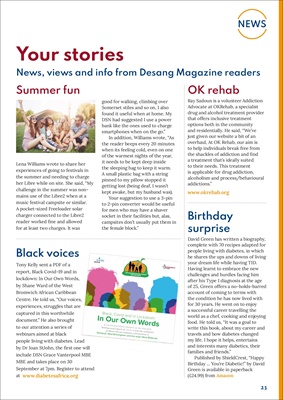 23
NEWS
Your stories
News, views and info from Desang Magazine readers
Summer fun OK rehab
Ray Sadoun is a volunteer Addiction
Advocate at OKRehab, a specialist
drug and alcohol treatment provider
that offers inclusive treatment
options both in the community
and residentially. He said, "We've
just given our website a bit of an
overhaul, At OK Rehab, our aim is
to help individuals break free from
the shackles of addiction and find
a treatment that's ideally suited
to their needs. This treatment
is applicable for drug addiction,
alcoholism and process/behavioural
addictions."
Birthday
surprise
David Green has written a biography,
complete with 70 recipes adapted for
people living with diabetes, in which
he shares the ups and downs of living
your dream life while having T1D.
Having learnt to embrace the new
challenges and hurdles facing him
after his Type 1 diagnosis at the age
of 25, Green offers a no-holds-barred
account of coming to terms with
the condition he has now lived with
for 30 years. He went on to enjoy
a successful career travelling the
world as a chef, cooking and enjoying
food. He told us, "It was a goal to
write this book, about my career and
travels and how diabetes changed
my life. I hope it helps, entertains
and interests many diabetics, their
families and friends."
Published by ShieldCrest, "Happy
Birthday ... You're Diabetic!" by David
Green is available in paperback
(£24.99) from Amazon
Black
voices
Tony Kelly sent a PDF of a
report, Black Covid-19 and
in lockdown: In Our Own
Words, by Shane Ward
of the West Bromwich
African Caribbean Centre.
He told us, "Our voices,
experiences, struggles
that are captured in this
worthwhile document."
He also brought to our
attention a series of
webinars aimed at black
people living with diabetes.
Lead by Dr Joan StJohn, the
first one will include DSN
Grace Vanterpool MBE.
©WBACRC 2021 - Black, Covid and in Lockdown: In Our Own Words: The Findings 1
Black, Covid and in Lockdown:
In Our Own Words
A community based research on the thoughts,
feelings and impact of COVID-19 and the lockdown
on Black african diaspora communities in
Sandwell, West Birmingham and the wider West Midlands
Reproduction and use of content inside this report are prohibited without the consent
of West Bromwich African Caribbean Resource Centre. Copyright © 2021
Lena Williams wrote to share her
experiences of going to festivals in
the summer and needing to charge
her Libre while on site. She said, "My
challenge in the summer was nonmains use of
the Libre2 when at a
music festival campsite or similar.
A pocket-sized Freeloader solar
charger connected to the Libre2
reader worked fine and allowed
for at least two charges. It was
good for walking, climbing over
Somerset stiles and so on, I also
found it useful when at home. My
DSN had suggested I use a power
bank like the ones used to charge
smartphones when on the go."
In addition, Williams wrote, "As
the reader beeps every 20 minutes
when its feeling cold, even on one
of the warmest nights of the year,
it needs to be kept deep inside
the sleeping bag to keep it warm.
A small plastic bag with a string
pinned to my pillow stopped it
getting lost (being deaf, I wasn't
kept awake, but my husband was).
Your suggestion to use a 3-pin
to 2-pin converter would be useful
for men who may have a shaver
socket in their facilities but, alas,
campsites don't usually put them in
the female block."