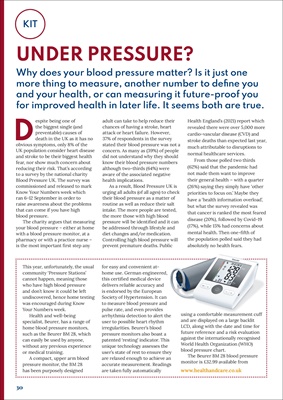 30
KIT
UNDER PRESSURE
Why does your blood pressure matter? Is it just one
more thing to measure, another number to define you
and your health, or can measuring it future-proof you
for improved health in later life. It seems both are true.
Despite being one of
the biggest single (and
preventable) causes of
death in the UK as it has no
obvious symptoms, only 8% of the
UK population consider heart disease
and stroke to be their biggest health
fear, nor show much concern about
reducing their risk. That's according
to a survey by the national charity
Blood Pressure UK. The survey was
commissioned and released to mark
Know Your Numbers week which
ran 6-12 September in order to
raise awareness about the problems
that can come if you have high
blood pressure.
The charity argues that measuring
your blood pressure - either at home
with a blood pressure monitor, at a
pharmacy or with a practice nurse -
is the most important first step any
adult can take to help reduce their
chances of having a stroke, heart
attack or heart failure. However,
37% of respondents in the survey
stated their blood pressure was not a
concern. As many as (39%) of people
did not understand why they should
know their blood pressure numbers
although two-thirds (64%) were
aware of the associated negative
health implications.
As a result, Blood Pressure UK is
urging all adults (of all ages) to check
their blood pressure as a matter of
routine as well as reduce their salt
intake. The more people are tested,
the more those with high blood
pressure will be identified and it can
be addressed through lifestyle and
diet changes and/or medication.
Controlling high blood pressure will
prevent premature deaths. Public
Health England's (2021) report which
revealed there were over 5,000 more
cardio-vascular disease (CVD) and
stroke deaths than expected last year,
much attributable to disruptions to
normal healthcare services.
From those polled two thirds
(62%) said that the pandemic had
not made them want to improve
their general health - with a quarter
(26%) saying they simply have 'other
priorities to focus on.' Maybe they
have a 'health information overload',
but what the survey revealed was
that cancer is ranked the most feared
disease (20%), followed by Covid-19
(17%), while 15% had concerns about
mental health. Then one-fifth of
the population polled said they had
absolutely no health fears.
This year, unfortunately, the usual
community 'Pressure Stations'
cannot happen, meaning those
who have high blood pressure
and don't know it could be left
undiscovered, hence home testing
was encouraged during Know
Your Numbers week.
Health and well-being
specialist, Beurer, has a range of
home blood pressure monitors,
such as the Beurer BM 28, which
can easily be used by anyone,
without any previous experience
or medical training.
A compact, upper arm blood
pressure monitor, the BM 28
has been purposely designed
for easy and convenient athome use. German engineered,
this certified medical device
delivers reliable accuracy and
is endorsed by the European
Society of Hypertension. It can
to measure blood pressure and
pulse rate, and even provides
arrhythmia detection to alert the
user to possible heart rhythm
irregularities. Beurer's blood
pressure monitors also boast a
patented 'resting' indicator. This
unique technology assesses the
user's state of rest to ensure they
are relaxed enough to achieve an
accurate measurement. Readings
are taken fully automatically
using a comfortable measurement cuff
and are displayed on a large backlit
LCD, along with the date and time for
future reference and a risk evaluation
against the internationally recognised
World Health Organization (WHO)
blood pressure chart.
The Beurer BM 28 blood pressure
monitor is £32.99 available from
Health and Care