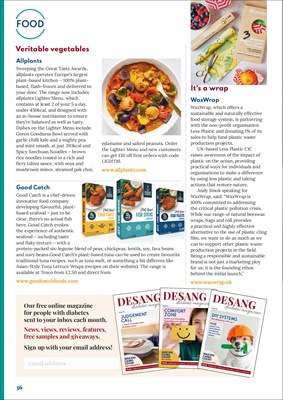 36
FOOD
It's a wrap
WaxWrap
WaxWrap, which offers a
sustainable and naturally effective
food storage system, is partnering
with the non-profit organisation
Less Plastic and donating 1% of its
sales to help fund plastic waste
production projects.
UK-based Less Plastic CIC
raises awareness of the impact of
plastic on the ocean, providing
practical ways for individuals and
organisations to make a difference
by using less plastic and taking
actions that restore nature.
Andy Smok, Sales & Key Account
Manager for WaxWrap, said:
"WaxWrap is 100% committed
to addressing the critical plastic
pollution crisis. While our range of
natural beeswax wraps, bags and
roll provides a practical and highly
effective alternative to the use of
plastic cling film, we want to do as
much as we can to support other
plastic waste production projects
in the field. Being a responsible
and sustainable brand is not just
a marketing ploy for us; it is the
founding ethos behind the initial
launch of WaxWrap."
Veritable vegetables
Good Catch
Good Catch is a chef-driven
innovative food company
developing flavourful, plantbased
seafood - just to be
clear, there's no actual fish
here. Good Catch evokes
the experience of authentic
seafood - including taste
Our free online magazine
for people with diabetes
sent to your inbox each month.
News, views, reviews, features,
free samples and giveaways.
Sign up with your email address!
ISSUE 115
MAKING
CARBS
COUNT
MILK ALTERNATIVES
PLUS Diabetes kit • Giveaways • News (for T1 and T2) • Food News
JUDGEMENT
CALL
10 things to consider when
choosing a meter
PLUS
Who's Zooming who?
An update on digital
health delivery
ISSUE 111
MAKING
CARBS
COUNT
BELL PEPPERS
PLUS Diabetes kit • Giveaways • News (for T1 and T2) • Food News
COMFORT
ZONE
Roche's new micropump:
designed for user satisfaction
PLUS
Dexcom's next
generation G7 sensor ISSUE 119
MAKING
CARBS
COUNT
LUSCIOUS LYCHEES
PLUS Diabetes kit • Giveaways • News (for T1 and T2) • Food News
DIY SYSTEMS
The ultimate in self-care?
PLUS
Roche's new
meter launch:
introducing
the Accu-Chek
Instant
email address
Allplants
Sweeping the Great Taste Awards,
allplants operates Europe's largest
plant-based kitchen - 100% plantbased,
flash-frozen and delivered to
your door. The range now includes
allplants Lighter Menu, which
contains at least 2 of your 5 a day,
under 450kcal, and designed with
an in-house nutritionist to ensure
they're balanced as well as tasty.
Dishes on the Lighter Menu include
Green Goodness Bowl served with
garlic chilli kale and a mighty pea
and mint smash, at just 393kcal and
Spicy Szechuan Noodles - brown
rice noodles tossed in a rich and
fiery tahini sauce, with soya and
mushroom mince, steamed pak choi,
edamame and salted peanuts. Order
the Lighter Menu and new customers
can get £10 off first orders with code
LIGHT10.
and flaky texture - with a
protein-packed six-legume blend of peas, chickpeas, lentils, soy, fava beans
and navy beans.Good Catch's plant-based tuna can be used to create favourite
traditional tuna recipes, such as tuna melt, or something a bit different like
Asian-Style Tuna Lettuce Wraps (recipes on their website). The range is
available at Tesco from £2.50 and direct from