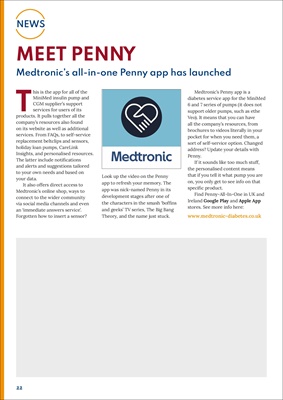 22
NEWS
MEET PENNY
Medtronic's all-in-one Penny app has launched
This is the app for all of the
MiniMed insulin pump and
CGM supplier's support
services for users of its
products. It pulls together all the
company's resources also found
on its website as well as additional
services. From FAQs, to self-service
replacement beltclips and sensors,
holiday loan pumps, CareLink
Insights, and personalised resources.
The latter include notifications
and alerts and suggestions tailored
to your own needs and based on
your data.
It also offers direct access to
Medtronic's online shop, ways to
connect to the wider community
via social media channels and even
an 'immediate answers service'.
Forgotten how to insert a sensor?
Look up the video on the Penny
app to refresh your memory. The
app was nick-named Penny in its
development stages after one of
the characters in the smash 'boffins
and geeks' TV series, The Big Bang
Theory, and the name just stuck.
Medtronic's Penny app is a
diabetes service app for the MiniMed
6 and 7 series of pumps (it does not
support older pumps, such as ethe
Veo). It means that you can have
all the company's resources, from
brochures to videos literally in your
pocket for when you need them, a
sort of self-service option. Changed
address? Update your details with
Penny.
If it sounds like too much stuff,
the personalised content means
that if you tell it what pump you are
on, you only get to see info on that
specific product.
You can find Penny in both UK
and Ireland Google Play and Apple
App Stores under 'Penny-All-In-One'.