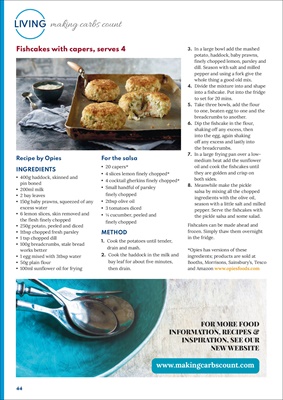 44
LIVING making carbs count
FOR MORE FOOD
INFORMATION, RECIPES &
INSPIRATION, SEE OUR
NEW WEBSITE
Recipe by Opies
INGREDIENTS
• 400g haddock, skinned and
pin boned
• 200ml milk
• 2 bay leaves
• 150g baby prawns, squeezed of any
excess water
• 6 lemon slices, skin removed and
the flesh finely chopped
• 250g potato, peeled and diced
• 1tbsp chopped fresh parsley
• 1 tsp chopped dill
• 100g breadcrumbs, stale bread
works better
• 1 egg mixed with 3tbsp water
• 50g plain flour
• 100ml sunflower oil for frying
For the salsa
• 20 capers*
• 4 slices lemon finely chopped*
• 4 cocktail gherkins finely chopped*
• Small handful of parsley
finely chopped
• 2tbsp olive oil
• 3 tomatoes diced
• ¼ cucumber, peeled and
finely chopped
METHOD
1. Cook the potatoes until tender,
drain and mash.
2. Cook the haddock in the milk and
bay leaf for about five minutes,
then drain.
3. In a large bowl add the mashed
potato, haddock, baby prawns,
finely chopped lemon, parsley and
dill. Season with salt and milled
peeper and using a fork give the
whole thing a good old mix.
4. Divide the mixture into and shape
into a fishcake. Put into the fridge
to set for 20 mins.
5. Take three bowls, add the flour
to one, beaten egg to one and the
breadcrumbs to another.
6. Dip the fishcake in the flour,
shaking off any excess, then
into the egg, again shaking
off any excess and lastly into
the breadcrumbs.
7. In a large frying pan over a lowmedium
heat add the sunflower
oil and cook the fishcakes until
they are golden and crisp on
both sides.
8. Meanwhile make the pickle
salsa by mixing all the chopped
ingredients together, season with
a little salt and milled pepper.
Serve the fishcakes with the
pickle salsa and some salad.
Fishcakes can be made ahead and
frozen. Simply thaw them overnight
in the fridge.
*Opies has versions of these
ingredients; products are sold at
Booths, Morrisons, Sainsbury's, Tesco
and Amazon www.opiesfoods.com
Fishcakes with capers, serves 4