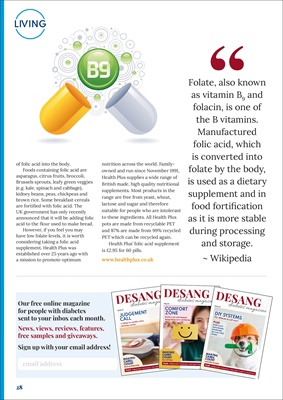 28
LIVING
of folic acid into the body.
Foods containing folic acid are
asparagus, citrus fruits, broccoli,
Brussels sprouts, leafy green veggies
(e.g. kale, spinach and cabbage),
kidney beans, peas, chickpeas and
brown rice. Some breakfast cereals
are fortified with folic acid. The
UK government has only recently
announced that it will be adding folic
acid to the flour used to make bread.
However, if you feel you may
have low folate levels, it is worth
considering taking a folic acid
supplement. Health Plus was
established over 25 years ago with
a mission to promote optimum
Folate, also known
as vitamin B9 and
folacin, is one of
the B vitamins.
Manufactured
folic acid, which
is converted into
folate by the body,
is used as a dietary
supplement and in
food fortification
as it is more stable
during processing
and storage.
~ Wikipedia
nutrition across the world. Familyowned
and run since November 1991,
Health Plus supplies a wide range of
British made, high quality nutritional
supplements. Most products in the
range are free from yeast, wheat,
lactose and sugar and therefore
suitable for people who are intolerant
to these ingredients. All Health Plus
pots are made from recyclable PET
and 87% are made from 99% recycled
PET which can be recycled again.
Health Plus' folic acid supplement
is £2.95 for 60 pills.
Our free online magazine
for people with diabetes
sent to your inbox each month.
News, views, reviews, features,
free samples and giveaways.
Sign up with your email address!
ISSUE 115
MAKING
CARBS
COUNT
MILK ALTERNATIVES
PLUS Diabetes kit • Giveaways • News (for T1 and T2) • Food News
JUDGEMENT
CALL
10 things to consider when
choosing a meter
PLUS
Who's Zooming who?
An update on digital
health delivery
ISSUE 111
MAKING
CARBS
COUNT
BELL PEPPERS
PLUS Diabetes kit • Giveaways • News (for T1 and T2) • Food News
COMFORT
ZONE
Roche's new micropump:
designed for user satisfaction
PLUS
Dexcom's next
generation G7 sensor ISSUE 119
MAKING
CARBS
COUNT
LUSCIOUS LYCHEES
PLUS Diabetes kit • Giveaways • News (for T1 and T2) • Food News
DIY SYSTEMS
The ultimate in self-care?
PLUS
Roche's new
meter launch:
introducing
the Accu-Chek
Instant
email address