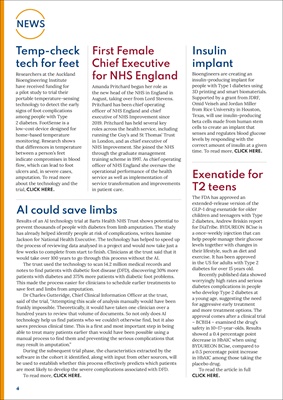 4
NEWS
Temp-check
tech for feet
Researchers at the Auckland
Bioengineering Institute
have received funding for
a pilot study to trial their
portable temperature-sensing
technology to detect the early
signs of foot complications
among people with Type
2 diabetes. FootSense is a
low-cost device designed for
home-based temperature
monitoring. Research shows
that differences in temperature
between a person's feet
indicate compromises in blood
flow, which can lead to foot
ulcers and, in severe cases,
amputation. To read more
about the technology and the
trial, CLICK HERE.
Insulin
implant
Bioengineers are creating an
insulin-producing implant for
people with Type 1 diabetes using
3D printing and smart biomaterials.
Supported by a grant from JDRF,
Omid Veiseh and Jordan Miller
from Rice University in Houston,
Texas, will use insulin-producing
beta cells made from human stem
cells to create an implant that
senses and regulates blood glucose
levels by responding with the
correct amount of insulin at a given
time. To read more, CLICK HERE.
First Female
Chief Executive
for NHS England
Amanda Pritchard began her role as
the new head of the NHS in England in
August, taking over from Lord Stevens.
Pritchard has been chief operating
officer of NHS England and chief
executive of NHS Improvement since
2019. Pritchard has held several key
roles across the health service, including
running the Guy's and St Thomas' Trust
in London, and as chief executive of
NHS Improvement. She joined the NHS
through the graduate management
training scheme in 1997. As chief operating
officer of NHS England she oversaw the
operational performance of the health
service as well as implementation of
service transformation and improvements
in patient care.
Exenatide for
T2 teens
The FDA has approved an
extended-release version of the
GLP-1 drug exenatide for older
children and teenagers with Type
2 diabetes, Andrew Briskin report
for DiaTribe. BYDUREON BCise is
a once-weekly injection that can
help people manage their glucose
levels together with changes in
their lifestyle, such as diet and
exercise. It has been approved
in the US for adults with Type 2
diabetes for over 15 years old.
Recently published data showed
worryingly high rates and serious
diabetes complications in people
who develop Type 2 diabetes at
a young age, suggesting the need
for aggressive early treatment
and more treatment options. The
approval comes after a clinical trial
- BCB114 - examined the drug's
safety in 10-17-year-olds. Results
showed a 0.4 percentage point
decrease in HbA1C when using
BYDUREON BCise, compared to
a 0.5 percentage point increase
in HbA1C among those taking the
placebo drug.
To read the article in full
CLICK HERE.
AI could save limbs
Results of an AI technology trial at Barts Health NHS Trust shows potential to
prevent thousands of people with diabetes from limb amputation. The study
has already helped identify people at risk of complications, writes Jasmine
Jackson for National Health Executive. The technology has helped to speed up
the process of reviewing data analysed in a project and would now take just a
few weeks to complete from start to finish. Clinicians at the trust said that it
would take over 100 years to go through this process without the AI.
The trust used the technology to scan 14.2 million medical records and
notes to find patients with diabetic foot disease (DFD), discovering 30% more
patients with diabetes and 375% more patients with diabetic foot problems.
This made the process easier for clinicians to schedule earlier treatments to
save feet and limbs from amputation.
Dr Charles Gutteridge, Chief Clinical Information Officer at the trust,
said of the trial, "Attempting this scale of analysis manually would have been
frankly impossible. Theoretically, it would have taken one clinician over a
hundred years to review that volume of documents. So not only does AI
technology help us find patients who we couldn't otherwise find, but it also
saves precious clinical time. This is a first and most important step in being
able to treat many patients earlier than would have been possible using a
manual process to find them and preventing the serious complications that
may result in amputation."
During the subsequent trial phase, the characteristics extracted by the
software in the cohort it identified, along with input from other sources, will
be used to establish whether this process effectively predicts which patients
are most likely to develop the severe complications associated with DFD.
To read more, CLICK HERE.