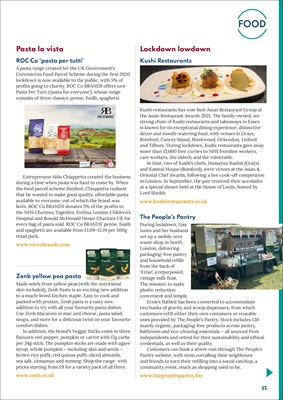 35
FOOD
Lockdown lowdown
Kushi Restaurants
Pasta la vista
ROC Co 'pasta per tutti'
A pasta range created for the UK Government's
Coronavirus Food Parcel Scheme during the first 2020
is now available to the public, with 5% of profits going
to charity. ROC Co BRANDS offers new Pasta Per Tutti
('pasta for everyone'), whose range consists of three
classics: penne, fusilli, spaghetti.
Entrepreneur Aldo Chiappetta created the business
during a time when pasta was hard to come by. When
the food parcel scheme finished, Chiappetta realised
that he wanted to make good quality, affordable pasta
available to everyone, out of which the brand was
born. ROC Co BRANDS donates 5% of the profits to
the NHS Charities Together, Evelina London Children's
Hospital and Ronald McDonald House Charities UK for
every bag of pasta sold. ROC Co BRANDS' penne, fusilli
and spaghetti are available from £1.09-£1.19 per 500g
retail pack.
Zenb yellow pea pasta
Made solely from yellow peas (with the nutritional
skin included), Zenb Pasta is an exciting new addition
to a much-loved kitchen staple. Easy to cook and
packed with protein, Zenb pasta is a tasty new
addition to try with all your favourite pasta dishes.
Use Zenb Macaroni in mac and cheese, pasta salad,
soups, and more for a delicious twist on your favourite
comfort dishes.
In addition, the brand's Veggie Sticks come in three
flavours: red pepper, pumpkin or carrot with 17g carbs
per 34g stick. The pumpkin sticks are made with agave
syrup, whole pumpkin - including skin and seeds -
brown rice puffs, red quinoa puffs, diced almonds, sea
salt, cinnamon and nutmeg. Shop the range at with
prices starting from £9 for a variety pack of all three.
Kushi restaurants has won Best Asian Restaurant Group at
the Asian Restaurant Awards 2021. The family-owned, sixstrong
chain of Kushi restaurants and takeaways in Essex
is known for its exceptional dining experience, distinctive
décor and mouth-watering food, with venues in Grays,
Romford, Canvey Island, Brentwood, Ockendon, Linford
and Tilbury. During lockdown, Kushi restaurants gave away
more than 15,000 free curries to NHS frontline workers,
care workers, the elderly and the vulnerable.
In June, two of Kushi's chefs, Humayun Rashid (Grays)
and Kamrul Hoque (Romford), were victors at the Asian &
Oriental Chef Awards, following a live cook-off competition
in London. In September, the pair received their accolades
at a special dinner held at the House of Lords, hosted by
Lord Sheikh.
The People's Pantry
During lockdown, Lisa
Jones and her husband
set up a mobile zero
waste shop in North
London, delivering
packaging-free pantry
and household refills
from the back of
'Ernie', a repurposed,
vintage milk float.
The mission: to make
plastic reduction
convenient and simple.
Ernie's flatbed has been converted to accommodate
two banks of gravity and scoop dispensers, from which
customers refill either their own containers or reusable
ones provided by The People's Pantry. Stock includes 130
mainly organic, packaging-free products across pantry,
bathroom and eco-cleaning essentials - all sourced from
independents and vetted for their sustainability and ethical
credentials, as well as their quality.
Customers can book a street visit through The People's
Pantry website, with most corralling their neighbours
and friends to turn their refilling into a social catchup, a
community event, much as shopping used to be.