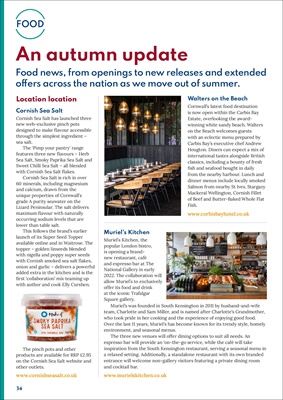 34
FOOD
An autumn update
Food news, from openings to new releases and extended
offers across the nation as we move out of summer.
Location location
Cornish Sea Salt
Cornish Sea Salt has launched three
new web-exclusive pinch pots
designed to make flavour accessible
through the simplest ingredient -
sea salt.
The 'Pimp your pantry' range
features three new flavours - Herb
Sea Salt, Smoky Paprika Sea Salt and
Sweet Chilli Sea Salt - all blended
with Cornish Sea Salt flakes.
Cornish Sea Salt is rich in over
60 minerals, including magnesium
and calcium, drawn from the
unique properties of Cornwall's
grade A purity seawater on the
Lizard Peninsular. The salt delivers
maximum flavour with naturally
occurring sodium levels that are
lower than table salt.
This follows the brand's earlier
launch of its Super Seed Topper
available online and in Waitrose. The
topper - golden linseeds blended
with nigella and poppy super seeds
with Cornish smoked sea salt flakes,
onion and garlic - delivers a powerful
added extra in the kitchen and is the
first 'collaboration' mix teaming up
with author and cook Elly Curshen.
The pinch pots and other
products are available for RRP £2.95
on the Cornish Sea Salt website and
other outlets.
Walters on the Beach
Cornwall's latest food destination
is now open within the Carbis Bay
Estate, overlooking the awardwinning white
sandy beach. Walters
on the Beach welcomes guests
with an eclectic menu prepared by
Carbis Bay's executive chef Andrew
Hougton. Diners can expect a mix of
international tastes alongside British
classics, including a bounty of fresh
fish and seafood bought in daily
from the nearby harbour. Lunch and
dinner menus include locally smoked
Salmon from nearby St Ives, Stargazy
Mackeral Wellington, Cornish Fillet
of Beef and Butter-Baked Whole Flat
Fish.
Muriel's Kitchen
Muriel's Kitchen, the
popular London bistro,
is opening a brandnew
restaurant, café
and espresso bar at The
National Gallery in early
2022. The collaboration will
allow Muriel's to exclusively
offer its food and drink
at the iconic Trafalgar
Square gallery.
Muriel's was founded in South Kensington in 2011 by husband-and-wife
team, Charlotte and Sam Miller, and is named after Charlotte's Grandmother,
who took pride in her cooking and the experience of enjoying good food.
Over the last 11 years, Muriel's has become known for its trendy style, homely
environment, and seasonal menus.
The three new venues will offer dining options to suit all needs. An
espresso bar will provide an 'on-the-go service, while the café will take
inspiration from the South Kensington restaurant, serving a seasonal menu in
a relaxed setting. Additionally, a standalone restaurant with its own branded
entrance will welcome non-gallery visitors featuring a private dining room
and cocktail bar.