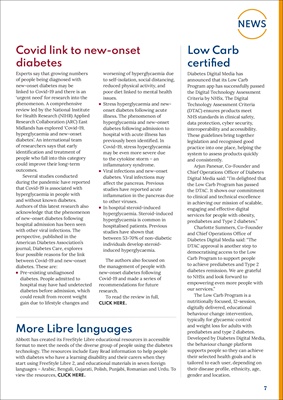 7
NEWS
Covid link to new-onset
diabetes
Experts say that growing numbers
of people being diagnosed with
new-onset diabetes may be
linked to Covid-19 and there is an
'urgent need' for research into the
phenomenon. A comprehensive
review led by the National Institute
for Health Research (NIHR) Applied
Research Collaboration (ARC) East
Midlands has explored 'Covid-19,
hyperglycaemia and new-onset
diabetes'. An international team
of researchers says that early
identification and treatment of
people who fall into this category
could improve their long-term
outcomes.
Several studies conducted
during the pandemic have reported
that Covid-19 is associated with
hyperglycaemia in people with
and without known diabetes.
Authors of this latest research also
acknowledge that the phenomenon
of new-onset diabetes following
hospital admission has been seen
with other viral infections. The
perspective, published in the
American Diabetes Association's
journal, Diabetes Care, explores
four possible reasons for the link
between Covid-19 and new-onset
diabetes. These are:
Pre-existing undiagnosed
diabetes. People admitted to
hospital may have had undetected
diabetes before admission, which
could result from recent weight
gain due to lifestyle changes and
worsening of hyperglycaemia due
to self-isolation, social distancing,
reduced physical activity, and
poor diet linked to mental health
issues.
Stress hyperglycaemia and newonset
diabetes following acute
illness. The phenomenon of
hyperglycaemia and new-onset
diabetes following admission to
hospital with acute illness has
previously been identified. In
Covid-19, stress hyperglycaemia
may be even more severe due
to the cytokine storm - an
inflammatory syndrome.
Viral infections and new-onset
diabetes. Viral infections may
affect the pancreas. Previous
studies have reported acute
inflammation in the pancreas due
to other viruses.
In hospital steroid-induced
hyperglycaemia. Steroid-induced
hyperglycaemia is common in
hospitalised patients. Previous
studies have shown that
between 53-70% of non-diabetic
individuals develop steroidinduced
hyperglycaemia.
The authors also focused on
the management of people with
new-onset diabetes following
Covid-19 and made a series of
recommendations for future
research.
To read the review in full,
CLICK HERE.
More Libre languages
Abbott has created its FreeStyle Libre educational resources in accessible
format to meet the needs of the diverse group of people using the diabetes
technology. The resources include Easy Read information to help people
with diabetes who have a learning disability and their carers when they
start using FreeStyle Libre 2, and educational materials in seven foreign
languages - Arabic, Bengali, Gujarati, Polish, Punjabi, Romanian and Urdu. To
view the resources, CLICK HERE.
Low Carb
certified
Diabetes Digital Media has
announced that its Low Carb
Program app has successfully passed
the Digital Technology Assessment
Criteria by NHSx. The Digital
Technology Assessment Criteria
(DTAC) ensures products meet
NHS standards in clinical safety,
data protection, cyber security,
interoperability and accessibility.
These guidelines bring together
legislation and recognised good
practice into one place, helping the
system to assess products quickly
and consistently.
Arjun Panesar, Co-Founder and
Chief Operations Officer of Diabetes
Digital Media said: "I'm delighted that
the Low Carb Program has passed
the DTAC. It shows our commitment
to clinical and technical excellence
in achieving our mission of scalable,
engaging and effective digital
services for people with obesity,
prediabetes and Type 2 diabetes."
Charlotte Summers, Co-Founder
and Chief Operations Office of
Diabetes Digital Media said: "The
DTAC approval is another step to
democratising access to the Low
Carb Program to support people
to achieve prediabetes and Type 2
diabetes remission. We are grateful
to NHSx and look forward to
empowering even more people with
our services."
The Low Carb Program is a
nutritionally focused, 12-session,
digitally delivered, educational
behaviour change intervention,
typically for glycaemic control
and weight loss for adults with
prediabetes and type 2 diabetes.
Developed by Diabetes Digital Media,
the behaviour change platform
supports people so they can achieve
their selected health goals and is
tailored to each user, depending on
their disease profile, ethnicity, age,
gender and location.