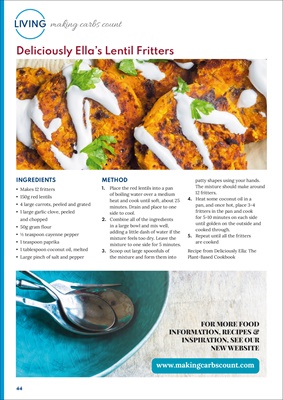 44
LIVING making carbs count
FOR MORE FOOD
INFORMATION, RECIPES &
INSPIRATION, SEE OUR
NEW WEBSITE
Deliciously Ella's Lentil Fritters
INGREDIENTS
• Makes 12 fritters
• 150g red lentils
• 4 large carrots, peeled and grated
• 1 large garlic clove, peeled
and chopped
• 50g gram flour
• ½ teaspoon cayenne pepper
• 1 teaspoon paprika
• 1 tablespoon coconut oil, melted
• Large pinch of salt and pepper
METHOD
1. Place the red lentils into a pan
of boiling water over a medium
heat and cook until soft, about 25
minutes. Drain and place to one
side to cool.
2. Combine all of the ingredients
in a large bowl and mix well,
adding a little dash of water if the
mixture feels too dry. Leave the
mixture to one side for 5 minutes.
3. Scoop out large spoonfuls of
the mixture and form them into
patty shapes using your hands.
The mixture should make around
12 fritters.
4. Heat some coconut oil in a
pan, and once hot, place 3-4
fritters in the pan and cook
for 5-10 minutes on each side
until golden on the outside and
cooked through.
5. Repeat until all the fritters
are cooked
Recipe from Deliciously Ella: The
Plant-Based Cookbook