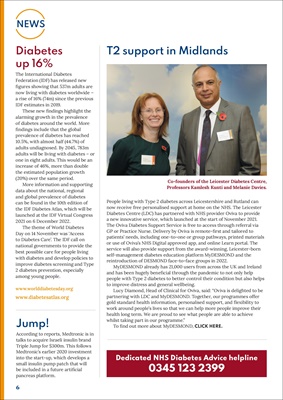 6
NEWS
Dedicated NHS Diabetes Advice helpline
0345 123 2399
Diabetes
up 16%
The International Diabetes
Federation (IDF) has released new
figures showing that 537m adults are
now living with diabetes worldwide -
a rise of 16% (74m) since the previous
IDF estimates in 2019.
These new findings highlight the
alarming growth in the prevalence
of diabetes around the world. More
findings include that the global
prevalence of diabetes has reached
10.5%, with almost half (44.7%) of
adults undiagnosed. By 2045, 783m
adults will be living with diabetes - or
one in eight adults. This would be an
increase of 46%, more than double
the estimated population growth
(20%) over the same period.
More information and supporting
data about the national, regional
and global prevalence of diabetes
can be found in the 10th edition of
the IDF Diabetes Atlas, which will be
launched at the IDF Virtual Congress
2021 on 6 December 2022.
The theme of World Diabetes
Day on 14 November was 'Access
to Diabetes Care'. The IDF call on
national governments to provide the
best possible care for people living
with diabetes and develop policies to
improve diabetes screening and Type
2 diabetes prevention, especially
among young people.
Learn more at
Jump!
According to reports, Medtronic is in
talks to acquire Israeli insulin brand
Triple Jump for $300m. This follows
Medtronic's earlier 2020 investment
into the start-up, which develops a
small insulin pump patch that will
be included in a future artificial
pancreas platform.
T2 support in Midlands
Co-founders of the Leicester Diabetes Centre,
Professors Kamlesh Kunti and Melanie Davies.
People living with Type 2 diabetes across Leicestershire and Rutland can
now receive free personalised support at home on the NHS. The Leicester
Diabetes Centre (LDC) has partnered with NHS provider Oviva to provide
a new innovative service, which launched at the start of November 2021.
The Oviva Diabetes Support Service is free to access through referral via
GP or Practice Nurse. Delivery by Oviva is remote-first and tailored to
patients' needs, including one-to-one or group pathways, printed materials
or use of Oviva's NHS Digital approved app, and online Learn portal. The
service will also provide support from the award-winning, Leicester-born
self-management diabetes education platform MyDESMOND and the
reintroduction of DESMOND face-to-face groups in 2022.
MyDESMOND already has 21,000 users from across the UK and Ireland
and has been hugely beneficial through the pandemic to not only help
people with Type 2 diabetes to better control their condition but also helps
to improve distress and general wellbeing.
Lucy Diamond, Head of Clinical for Oviva, said: "Oviva is delighted to be
partnering with LDC and MyDESMOND. Together, our programmes offer
gold standard health information, personalised support, and flexibility to
work around people's lives so that we can help more people improve their
health long term. We are proud to see what people are able to achieve
whilst taking part in our programme."
To find out more about MyDESMOND, CLICK HERE.