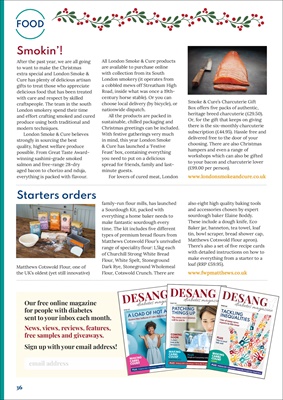 36
FOOD
Starters orders
Our free online magazine
for people with diabetes
sent to your inbox each month.
News, views, reviews, features,
free samples and giveaways.
Sign up with your email address!
ISSUE 121
MAKING
CARBS
COUNT
PROBIOTICS
PLUS Diabetes kit • Giveaways • News (for T1 and T2) • Food News
A LOAD OF HOT AIR?
Bounce blue balloons & raise diabetes awareness
PLUS
Common foot
problems
AND
Refreshing
sleep tips
ISSUE 124
MAKING
CARBS
COUNT
FORBIDDEN RICE
PLUS Diabetes kit • Giveaways • News (for T1 and T2) • Food News
PATCHING
THINGS UP
The many uses sensors
will be put to
COMING
SOON
A closer
look at the
Dexcom G7
PLUS
Details on Dana pump range
email address
FOOD
Smokin'!
After the past year, we are all going
to want to make the Christmas
extra special and London Smoke &
Cure has plenty of delicious artisan
gifts to treat those who appreciate
delicious food that has been treated
with care and respect by skilled
craftspeople. The team in the south
London smokery spend their time
and effort crafting smoked and cured
produce using both traditional and
modern techniques.
London Smoke & Cure believes
strongly in sourcing the best
quality, highest welfare produce
possible. From Great Taste Awardwinning sashimi-grade
smoked
salmon and free-range 28-dry
aged bacon to chorizo and nduja,
everything is packed with flavour.
All London Smoke & Cure products
are available to purchase online
with collection from its South
London smokery (it operates from
a cobbled mews off Streatham High
Road, inside what was once a 19thcentury
horse stable). Or you can
choose local delivery (by bicycle), or
nationwide dispatch.
All the products are packed in
sustainable, chilled packaging and
Christmas greetings can be included.
With festive gatherings very much
in mind, this year London Smoke
& Cure has launched a 'Festive
Feast' box, containing everything
you need to put on a delicious
spread for friends, family and lastminute guests.
For lovers of cured meat, London
Matthews Cotswold Flour, one of
the UK's oldest (yet still innovative)
also eight high quality baking tools
and accessories chosen by expert
sourdough baker Elaine Boddy.
These include a dough knife, Eco
Baker jar, banneton, tea towel, loaf
tin, bowl scraper, bread shower cap,
Matthews Cotswold Flour apron).
There's also a set of five recipe cards
with detailed instructions on how to
make everything from a starter to a
loaf (RRP £59.95).
Smoke & Cure's Charcuterie Gift
Box offers five packs of authentic,
heritage breed charcuterie (£29.50).
Or, for the gift that keeps on giving
there is the six-monthly charcuterie
subscription (£44.95). Hassle free and
delivered free to the door of your
choosing. There are also Christmas
hampers and even a range of
workshops which can also be gifted
to your bacon and charcuterie lover
(£99.00 per person).
family-run flour mills, has launched
a Sourdough Kit, packed with
everything a home baker needs to
make fantastic sourdough every
time. The kit includes five different
types of premium bread flours from
Matthews Cotswold Flour's unrivalled
range of speciality flour: 1,5kg each
of Churchill Strong White Bread
Flour, White Spelt, Stoneground
Dark Rye, Stoneground Wholemeal
Flour, Cotswold Crunch. There are