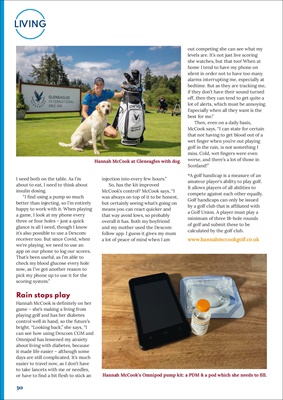 30
LIVING
I need both on the table. As I'm
about to eat, I need to think about
insulin dosing.
"I find using a pump so much
better than injecting, so I'm entirely
happy to work with it. When playing
a game, I look at my phone every
three or four holes - just a quick
glance is all I need, though I know
it's also possible to use a Dexcom
receiver too. But since Covid, when
we're playing, we need to use an
app on our phone to log our scores.
That's been useful, as I'm able to
check my blood glucose every hole
now, as I've got another reason to
pick my phone up to use it for the
scoring system."
Rain stops play
Hannah McCook is definitely on her
game - she's making a living from
playing golf and has her diabetes
control well in hand, so the future's
bright. "Looking back," she says, "I
can see how using Dexcom CGM and
Omnipod has lessened my anxiety
about living with diabetes, because
it made life easier - although some
days are still complicated. It's much
easier to travel now, as I don't have
to take lancets with me or needles,
or have to find a bit flesh to stick an
injection into every few hours."
So, has the kit improved
McCook's control? McCook says, "I
was always on top of it to be honest,
but certainly seeing what's going on
means you can react quicker and
that way avoid lows, so probably
overall it has. Both my boyfriend
and my mother used the Dexcom
follow app. I guess it gives my mum
a lot of peace of mind when I am
out competing she can see what my
levels are. It's not just live scoring
she watches, but that too! When at
home I tend to have my phone on
silent in order not to have too many
alarms interrupting me, especially at
bedtime. But as they are tracking me,
if they don't have their sound turned
off, then they can tend to get quite a
lot of alerts, which must be annoying.
Especially when all they want is the
best for me."
Then, even on a daily basis,
McCook says, "I can state for certain
that not having to get blood out of a
wet finger when you're out playing
golf in the rain, is not something I
miss. Cold, wet fingers were even
worse, and there's a lot of those in
Scotland!"
*A golf handicap is a measure of an
amateur player's ability to play golf.
It allows players of all abilities to
compete against each other equally.
Golf handicaps can only be issued
by a golf club that is affiliated with
a Golf Union. A player must play a
minimum of three 18-hole rounds
of golf and submit these to be
calculated by the golf club.
Hannah McCook at Gleneagles with dog. Hannah McCook's Omnipod pump kit.