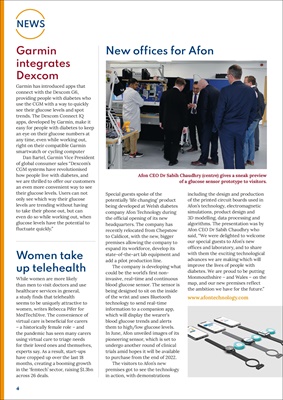 4
NEWS
Garmin
integrates
Dexcom
Garmin has introduced apps that
connect with the Dexcom G6,
providing people with diabetes who
use the CGM with a way to quickly
see their glucose levels and spot
trends. The Dexcom Connect IQ
apps, developed by Garmin, make it
easy for people with diabetes to keep
an eye on their glucose numbers at
any time, even while working out,
right on their compatible Garmin
smartwatch or cycling computer
Dan Bartel, Garmin Vice President
of global consumer sales "Dexcom's
CGM systems have revolutionised
how people live with diabetes, and
we are thrilled to offer our customers
an even more convenient way to see
their glucose levels. Users can not
only see which way their glucose
levels are trending without having
to take their phone out, but can
even do so while working out, when
glucose levels have the potential to
fluctuate quickly."
New offices for Afon
Women take
up telehealth
While women are more likely
than men to visit doctors and use
healthcare services in general,
a study finds that telehealth
seems to be uniquely attractive to
women, writes Rebecca Pifer for
MedTechDive. The convenience of
virtual care is beneficial for carers
- a historically female role - and
the pandemic has seen many carers
using virtual care to triage needs
for their loved ones and themselves,
experts say. As a result, start-ups
have cropped up over the last 18
months, creating a booming growth
in the 'femtech' sector, raising $1.3bn
across 26 deals.
Special guests spoke of the
potentially 'life changing' product
being developed at Welsh diabetes
company Afon Technology during
the official opening of its new
headquarters. The company has
recently relocated from Chepstow
to Caldicot, with the new, bigger
premises allowing the company to
expand its workforce, develop its
state-of-the-art lab equipment and
add a pilot production line.
The company is developing what
could be the world's first noninvasive,
real-time and continuous
blood glucose sensor. The sensor is
being designed to sit on the inside
of the wrist and uses Bluetooth
technology to send real-time
information to a companion app,
which will display the wearer's
blood glucose trends and alerts
them to high/low glucose levels.
In June, Afon unveiled images of its
pioneering sensor, which is set to
undergo another round of clinical
trials amid hopes it will be available
to purchase from the end of 2022.
The visitors to Afon's new
premises got to see the technology
in action, with demonstrations
Afon CEO Dr Sabih Chaudhry gives a sneak preview
of a prototype to visitors.
including the design and production
of the printed circuit boards used in
Afon's technology, electromagnetic
simulations, product design and
3D modelling, data processing and
algorithms. The presentation was by
Afon CEO Dr Sabih Chaudhry who
said, "We were delighted to welcome
our special guests to Afon's new
offices and laboratory, and to share
with them the exciting technological
advances we are making which will
improve the lives of people with
diabetes. We are proud to be putting
Monmouthshire - and Wales - on the
map, and our new premises reflect
the ambition we have for the future."