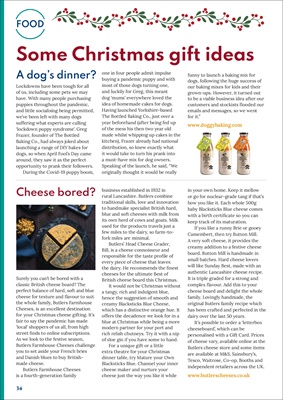 34
FOOD
A dog's dinner?
Surely you can't be bored with a
classic British cheese board? The
perfect balance of hard, soft and blue
cheese for texture and flavour to suit
the whole family, Butlers Farmhouse
Cheeses, the fourth-generation
Lancashire family cheesemakers,
is an excellent destination for your
Christmas cheese gifting. It's fair to
say the pandemic has made 'local'
shoppers of us all, from high street
finds to online subscriptions. As we
look to the festive season, Butlers
Farmhouse Cheeses challenge
you to set aside your French bries
and Danish blues to buy Britishmade cheese.
Lockdowns have been tough for all
of us, including some pets we may
have. With many people purchasing
puppies throughout the pandemic,
and little socialising being permitted,
we've been left with many dogs
suffering what experts are calling
'lockdown puppy syndrome'. Greg
Frazer, founder of The Bottled
Baking Co., had always joked about
launching a range of DIY bakes for
dogs, so when April Fool's Day came
around, they saw it as the perfect
opportunity to prank their followers.
During the Covid-19 puppy boom,
Cheese bored?
Butlers Farmhouse Cheeses
is a fourth-generation family
business established in 1932 in
rural Lancashire. Butlers combine
traditional skills, love and innovation
to handmake specialist British hard,
blue and soft cheeses with milk from
its own herd of cows and goats. Milk
used for the products travels just a
few miles to the dairy, so farm-tofork
miles are minimal.
Butlers' Head Cheese Grader,
Bill, is a cheese connoisseur and
responsible for the taste profile of
every piece of cheese that leaves
the dairy. He recommends the finest
cheeses for the ultimate Best of
British cheese board this Christmas.
It would not be Christmas without
a tangy, rich and indulgent blue,
hence the suggestion of smooth and
creamy Blacksticks Blue Cheese,
which has a distinctive orange hue. It
offers the decadence we look for in a
blue at Christmas while being a more
modern partner for your port and
rich relish chutneys. Try it with a nip
of sloe gin if you have some to hand.
For a unique gift or a little
extra theatre for your Christmas
dinner table, try Mature your Own
Blacksticks Blue. Channel your inner
cheese maker and nurture your
cheese just the way you like it while
in your own home. Keep it mellow
or go for nuclear-grade tang if that's
how you like it. Each whole 500g
baby Blacksticks Blue cheese comes
with a birth certificate so you can
keep track of its maturation.
If you like a runny Brie or gooey
Camembert, then try Button Mill.
A very soft cheese, it provides the
creamy addition to a festive cheese
board. Button Mill is handmade in
small batches. Hard cheese lovers
will like Sunday Best, made with an
authentic Lancashire cheese recipe.
It is triple graded for a strong and
complex flavour. Add this to your
cheese board and delight the whole
family. Lovingly handmade, the
original Butlers family recipe which
has been crafted and perfected in the
dairy over the last 50 years.
It's possible to order a 'letterbox
cheeseboard', which can be
personalised with a Gift Card. Prices
of cheese vary, available online at the
Butlers cheese store and some items
are available at M&S, Sainsbury's,
Tesco, Waitrose, Co-op, Booths and
independent retailers across the UK.
one in four people admit impulse
buying a pandemic puppy and with
most of those dogs turning one,
and luckily for Greg, this meant
dog 'mums' everywhere loved the
idea of homemade cakes for dogs.
Having launched Yorkshire-based
The Bottled Baking Co., just over a
year beforehand (after being fed up
of the mess his then two year old
made whilst whipping up cakes in the
kitchen), Frazer already had national
distribution, so knew exactly what
it would take to turn his prank into
a must-have mix for dog owners.
Speaking of the launch, he said, "We
originally thought it would be really
funny to launch a baking mix for
dogs, following the huge success of
our baking mixes for kids and their
grown-ups. However, it turned out
to be a viable business idea after our
customers and stockists flooded our
emails and messages, so we went
for it."
Some Christmas gift ideas