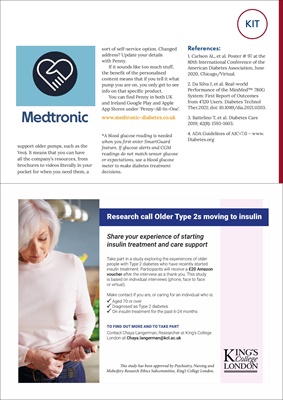 19
KIT
support older pumps, such as the
Veo). It means that you can have
all the company's resources, from
brochures to videos literally in your
pocket for when you need them, a
sort of self-service option. Changed
address? Update your details
with Penny.
If it sounds like too much stuff,
the benefit of the personalised
content means that if you tell it what
pump you are on, you only get to see
info on that specific product.
You can find Penny in both UK
and Ireland Google Play and Apple
App Stores under 'Penny-All-In-One'.
*A BG needed when you first enter
SmartGuard™ feature. If glucose
alerts and CGM readings do not
match SG or expectations, use
a blood glucose meter to make
diabetes treatment decisions.
References:
1. Carlson AL, et al. Poster # 97 at the
80th International Conference of the
American Diabetes Association, June
2020, Chicago/Virtual.
2. Da Silva J, et al. Real-world
Performance of the MiniMed™ 780G
System: First Report of Outcomes
from 4'120 Users. Diabetes Technol
Ther.2021; doi: 10.1089/dia.2021.0203.
3. Battelino T, et al. Diabetes Care
2019; 42(8): 1593-1603.
4. ADA Guidelines of A1C<7.0 - www.
Diabetes.org