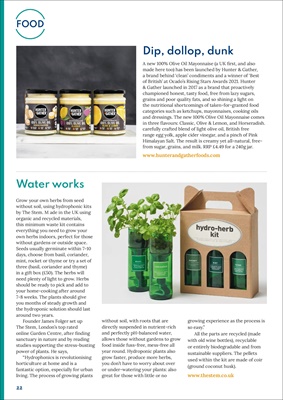 22
FOOD
Dip, dollop, dunk
Water works
A new 100% Olive Oil Mayonnaise (a UK first, and also
made here too) has been launched by Hunter & Gather,
a brand behind 'clean' condiments and a winner of 'Best
of British' at Ocado's Rising Stars Awards 2021. Hunter
& Gather launched in 2017 as a brand that proactively
championed honest, tasty food, free from lazy sugars,
grains and poor quality fats, and so shining a light on
the nutritional shortcomings of taken-for-granted food
categories such as ketchups, mayonnaises, cooking oils
and dressings. The new 100% Olive Oil Mayonnaise comes
in three flavours: Classic, Olive & Lemon, and Horseradish.
carefully crafted blend of light olive oil, British free
range egg yolk, apple cider vinegar, and a pinch of Pink
Himalayan Salt. The result is creamy yet all-natura, freefrom
sugar, grains, and milk. RRP £4.49 for a 240g jar.
Grow your own herbs from seed
without soil, using hydrophonic kits
by The Stem. M ade in the UK using
organic and recycled materials,
this minimum waste kit contains
everything you need to grow your
own herbs indoors, perfect for those
without gardens or outside space.
Seeds usually germinate within 7-10
days, choose from basil, coriander,
mint, rocket or thyme or try a set of
three (basil, coriander and thyme)
in a gift box (£50). The herbs will
need plenty of light to grow. Herbs
should be ready to pick and add to
your home-cooking after around
7-8 weeks. The plants should give
you months of steady growth and
the hydroponic solution should last
around two years.
Founder James Folger set up
The Stem, London's top rated
online Garden Centre, after finding
sanctuary in nature and by reading
studies supporting the stress-busting
power of plants. He says,
"Hydrophonics is revolutionising
horticulture at home and is a
fantastic option, especially for urban
living. The process of growing plants
without soil, with roots that are
directly suspended in nutrient-rich
and perfectly pH-balanced water,
allows those without gardens to grow
food inside fuss-free, mess-free all
year round. Hydroponic plants also
grow faster, produce more herbs,
you don't have to worry about over
or under-watering your plants: also
great for those with little or no
growing experience as the process is
so easy."
All the parts are recycled (made
with old wine bottles), recyclable
or entirely biodegradable and from
sustainable suppliers. The pellets
used within the kit are made of coir
(ground coconut husk).