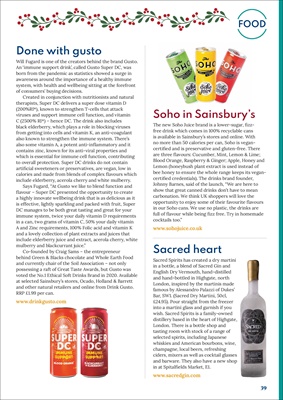 39
FOOD
Sacred heart
Sacred Spirits has created a dry martini
in a bottle, a blend of Sacred Gin and
English Dry Vermouth, hand-distilled
and hand-bottled in Highgate, north
London, inspired by the martinis made
famous by Alessandro Palazzi of Dukes'
Bar, SW1. (Sacred Dry Martini, 50cl,
£24.95). Pour straight from the freezer
into a martini glass and garnish if you
wish. Sacred Spirits is a family-owned
distillery based in the heart of Highgate,
London. There is a bottle shop and
tasting room with stock of a range of
selected spirits, including Japanese
whiskies and American bourbons, wine,
champagne, local beers, refreshing
ciders, mixers as well as cocktail glasses
and barware. They also have a new shop
in at Spitalfields Market, E1.
Done with gusto
Will Fugard is one of the creators behind the brand Gusto.
An 'immune support drink', called Gusto Super DC, was
born from the pandemic as statistics showed a surge in
awareness around the importance of a healthy immune
system, with health and wellbeing sitting at the forefront
of consumers' buying decisions.
Created in conjunction with nutritionists and natural
therapists, Super DC delivers a super dose vitamin D
(200%RI*), known to strengthen T-cells that attack
viruses and support immune cell function, and vitamin
C (2500% RI*) - hence DC. The drink also includes
black elderberry, which plays a role in blocking viruses
from getting into cells and vitamin K, an anti-coagulant
also known to strengthen the immune system. There's
also some vitamin A, a potent anti-inflammatory and it
contains zinc, known for its anti-viral properties and
which is essential for immune cell function, contributing
to overall protection. Super DC drinks do not contain
artificial sweeteners or preservatives, are vegan, low in
calories and made from blends of complex flavours which
include elderberry, acerola cherry and white mulberry.
Says Fugard, "At Gusto we like to blend function and
flavour - Super DC presented the opportunity to create
a highly innovate wellbeing drink that is as delicious as it
is effective, lightly sparkling and packed with fruit, Super
DC manages to be both great tasting and great for your
immune system, twice your daily vitamin D requirements
in a can, two grams of vitamin C, 50% your daily vitamin
A and Zinc requirements, 100% Folic acid and vitamin K
and a lovely collection of plant extracts and juices that
include elderberry juice and extract, acerola cherry, white
mulberry and blackcurrant juice."
Co-founded by Craig Sams - the entrepreneur
behind Green & Blacks chocolate and Whole Earth Food
and currently chair of the Soil Association - not only
possessing a raft of Great Taste Awards, but Gusto was
voted the No.1 Ethical Soft Drinks Brand in 2020. Available
at selected Sainsbury's stores, Ocado, Holland & Barrett
and other natural retailers and online from Drink Gusto.
RRP £1.99 per can.
Soho in Sainsbury's
The new Soho Juice brand is a lower-sugar, fizzfree
drink which comes in 100% recyclable cans
is available in Sainsbury's stores and online. With
no more than 50 calories per can, Soho is vegancertified
and is preservative and gluten-free. There
are three flavours: Cucumber, Mint, Lemon & Lime;
Blood Orange, Raspberry & Ginger; Apple, Honey and
Lemon (honeybush plant extract is used instead of
bee honey to ensure the whole range keeps its vegancertified
credentials). The drinks brand founder,
Johnny Barnes, said of the launch, "We are here to
show that great canned drinks don't have to mean
carbonation. We think UK shoppers will love the
opportunity to enjoy some of their favourite flavours
in our Soho cans. We use no plastic, the drinks are
full of flavour while being fizz free. Try in homemade
cocktails too."