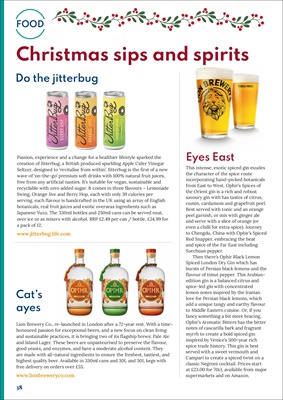 38
FOOD
Do the jitterbug
Cat's
ayes
Eyes East
This intense, exotic spiced gin exudes
the character of the spice route
incorporating hand-picked botanicals
from East to West. Ophir's Spices of
the Orient gin is a rich and robust
savoury gin with has tastes of citrus,
cumin, cardamom and grapefruit peel.
Best served with tonic and an orange
peel garnish, or mix with ginger ale
and serve with a slice of orange (or
even a chilli for extra spice). Journey
to Chengdu, China with Ophir's Spiced
Red Snapper, embracing the heat
and spice of the Far East including
Szechuan pepper.
Then there's Ophir Black Lemon
Spiced London Dry Gin which has
bursts of Persian black lemons and the
flavour of timut pepper. This Arabianedition
gin is a balanced citrus and
spice-led gin with concentrated
lemon notes inspired by the Iranian
love for Persian black lemons, which
add a unique tangy and earthy flavour
to Middle Eastern cuisine. Or, if you
fancy something a bit more bracing,
Ophir's Aromatic Bitters has the bitter
notes of cascarilla bark and fragrant
myrrh to create a bold spiced gin
inspired by Venice's 500-year rich
spice trade history. This gin is best
served with a sweet vermouth and
Campari to create a spiced twist on a
classic Negroni cocktail. Prices start
at £23.00 for 70cl, available from major
supermarkets and on Amazon.
Passion, experience and a change for a healthier lifestyle sparked the
creation of Jitterbug, a British produced sparkling Apple Cider Vinegar
Seltzer, designed to 'revitalise from within'. Jitterbug is the first of a new
wave of 'on-the-go' premium soft drinks with 100% natural fruit juices,
free from any artificial nasties. It's suitable for vegan, sustainable and
recyclable with zero added sugar. It comes in three flavours - Lemonade
Swing, Orange Jive and Berry Hop, each with only 39 calories per
serving. each flavour is handcrafted in the UK using an array of English
botanicals, real fruit juices and exotic overseas ingredients such as
Japanese Yuzu. The 330ml bottles and 250ml cans can be served neat,
over ice or as mixers with alcohol. RRP £2.49 per can / bottle, £24.99 for
a pack of 12.
Cheers m'dears!
Lion Brewery Co., re-launched in London after a 72-year rest. With a timehonoured
passion for exceptional beers, and a new focus on clean living
and sustainable practices, it is bringing two of its flagship brews: Pale Ale
and Island Lager. These beers are unpasteurised to preserve the flavour,
good yeasts, and enzymes, and have a moderate alcohol content. They
are made with all-natural ingredients to ensure the freshest, tastiest, and
highest quality beer. Available in 330ml cans and 30L and 50L kegs with
free delivery on orders over £55.