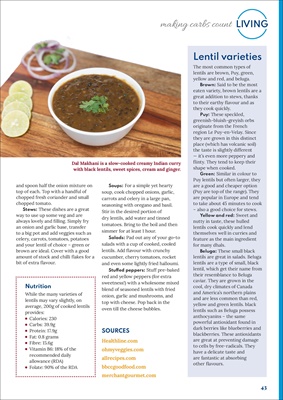 43
LIVING
making carbs count
SOURCES
Healthline.com
ohmyveggies.com
allrecipes.com
bbccgoodfood.com
merchantgourmet.com
Nutrition
While the many varieties of
lentils may vary slightly, on
average, 200g of cooked lentils
provides:
Calories: 230
Carbs: 39.9g
Protein: 17.9g
Fat: 0.8 grams
Fibre: 15.6g
Vitamin B6: 18% of the
recommended daily
allowance (RDA)
Folate: 90% of the RDA
and spoon half the onion mixture on
top of each. Top with a handful of
chopped fresh coriander and small
chopped tomato.
Stews: These dishes are a great
way to use up some veg and are
always lovely and filling. Simply fry
an onion and garlic base, transfer
to a big pot and add veggies such as
celery, carrots, tomatoes, potatoes
and your lentil of choice - green or
brown are ideal. Cover with a good
amount of stock and chilli flakes for a
bit of extra flavour.
Dal Makhani is a slow-cooked creamy Indian curry
with black lentils, sweet spices, cream and ginger.
Lentil varieties
The most common types of
lentils are brown, Puy, green,
yellow and red, and beluga.
Brown: Said to be the most
eaten variety, brown lentils are a
great addition to stews, thanks
to their earthy flavour and as
they cook quickly.
Puy: These speckled,
greenish-bluish-greyish orbs
originate from the French
region Le Puy-en-Velay. Since
they are grown in this distinct
place (which has volcanic soil)
the taste is slightly different
- it's even more peppery and
flinty. They tend to keep their
shape when cooked.
Green: Similar in colour to
Puy lentils but often larger, they
are a good and cheaper option
(Puy are top of the range). They
are popular in Europe and tend
to take about 45 minutes to cook
- also a good choice for stews.
Yellow and red: Sweet and
nutty in taste, these hulled
lentils cook quickly and lend
themselves well in curries and
feature as the main ingredient
for many dhals.
Beluga: These small black
lentils are great in salads. Beluga
lentils are a type of small, black
lentil, which get their name from
their resemblance to Beluga
caviar. They are grown in the
cool, dry climates of Canada
and America's northern plains
and are less common than red,
yellow and green lentils. black
lentils such as Beluga possess
anthocyanins - the same
powerful antioxidant found in
dark berries like blueberries and
blackberries. These antioxidants
are great at preventing damage
to cells by free-radicals. They
have a delicate taste and
are fantastic at absorbing
other flavours.
Soups: For a simple yet hearty
soup, cook chopped onions, garlic,
carrots and celery in a large pan,
seasoning with oregano and basil.
Stir in the desired portion of
dry lentils, add water and tinned
tomatoes. Bring to the boil and then
simmer for at least 1 hour.
Salads: Pad out any of your go-to
salads with a cup of cooked, cooled
lentils. Add flavour with crunchy
cucumber, cherry tomatoes, rocket
and even some lightly fried halloumi.
Stuffed peppers: Stuff pre-baked
red and yellow peppers (for extra
sweetness!) with a wholesome mixed
blend of seasoned lentils with fried
onion, garlic and mushrooms, and
top with cheese. Pop back in the
oven till the cheese bubbles.