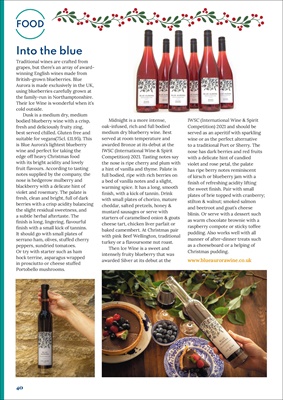 40
FOOD
Into the blue
Traditional wines are crafted from
grapes, but there's an array of awardwinning English
wines made from
British-grown blueberries. Blue
Aurora is made exclusively in the UK,
using blueberries carefully grown at
the family-run in Northamptonshire.
Their Ice Wine is wonderful when it's
cold outside.
Dusk is a medium dry, medium
bodied blueberry wine with a crisp,
fresh and deliciously fruity zing,
best served chilled. Gluten free and
suitable for vegans(75cl. £11.95). This
is Blue Aurora's lightest blueberry
wine and perfect for taking the
edge off heavy Christmas food
with its bright acidity and lovely
fruit flavours. According to tasting
notes supplied by the company, the
nose is hedgerow mulberry and
blackberry with a delicate hint of
violet and rosemary. The palate is
fresh, clean and bright, full of dark
berries with a crisp acidity balancing
the slight residual sweetness, and
a subtle herbal aftertaste. The
finish is long, lingering, flavourful
finish with a small kick of tannins.
It should go with small plates of
serrano ham, olives, stuffed cherry
peppers, sundried tomatoes.
Or try with starter such as ham
hock terrine, asparagus wrapped
in prosciutto or cheese stuffed
Portobello mushrooms.
Midnight is a more intense,
oak-infused, rich and full bodied
medium dry blueberry wine. Best
served at room temperature and
awarded Bronze at its debut at the
IWSC (International Wine & Spirit
Competition) 2021. Tasting notes say
the nose is ripe cherry and plum with
a hint of vanilla and thyme. Palate is
full bodied, ripe with rich berries on
a bed of vanilla notes and a slight,
warming spice. It has a long, smooth
finish, with a kick of tannin. Drink
with small plates of chorizo, mature
cheddar, salted pretzels, honey &
mustard sausages or serve with
starters of caramelised onion & goats
cheese tart, chicken liver parfait or
baked camembert. At Christmas pair
with pink Beef Wellington, traditional
turkey or a flavoursome nut roast.
Then Ice Wine is a sweet and
intensely fruity blueberry that was
awarded Silver at its debut at the
IWSC (International Wine & Spirit
Competition) 2021 and should be
served as an aperitif with sparkling
wine or as the perfect alternative
to a traditional Port or Sherry. The
nose has dark berries and red fruits
with a delicate hint of candied
violet and rose petal, the palate
has ripe berry notes reminiscent
of kirsch or blueberry jam with a
finish of refreshing acidity lifting
the sweet finish. Pair with small
plates of brie topped with cranberry;
stilton & walnut; smoked salmon
and beetroot and goat's cheese
blinis. Or serve with a dessert such
as warm chocolate brownie with a
raspberry compote or sticky toffee
pudding. Also works well with all
manner of after-dinner treats such
as a cheeseboard or a helping of
Christmas pudding.