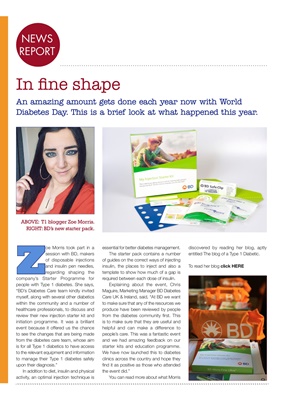 NEWS
NEWS
REPORT
An amazing amount gets done each year now with World
Diabetes Day. This is a brief look at what happened this year.
In fine shape
Z
oe Morris took part in a
session with BD, makers
of disposable injections
and insulin pen needles,
regarding shaping the
company's Starter Programme for
people with Type 1 diabetes. She says,
"BD's Diabetes Care team kindly invited
myself, along with several other diabetics
within the community and a number of
healthcare professionals, to discuss and
review their new injection starter kit and
initiation programme. It was a brilliant
event because it offered us the chance
to see the changes that are being made
from the diabetes care team, whose aim
is for all Type 1 diabetics to have access
to the relevant equipment and information
to manage their Type 1 diabetes safely
upon their diagnosis."
In addition to diet, insulin and physical
activity, an optimal injection technique is
essential for better diabetes management.
The starter pack contains a number
of guides on the correct ways of injecting
insulin, the places to inject and also a
template to show how much of a gap is
required between each dose of insulin.
Explaining about the event, Chris
Maguire, Marketing Manager BD Diabetes
Care UK & Ireland, said, "At BD we want
to make sure that any of the resources we
produce have been reviewed by people
from the diabetes community first. This
is to make sure that they are useful and
helpful and can make a difference to
people's care. This was a fantastic event
and we had amazing feedback on our
starter kits and education programme.
We have now launched this to diabetes
clinics across the country and hope they
find it as positive as those who attended
the event did."
You can read more about what Morris
ABOVE: T1 blogger Zoe Morris.
RIGHT: BD's new starter pack.
discovered by reading her blog, aptly
entitled The blog of a Type 1 Diabetic.
To read her blog click HERE