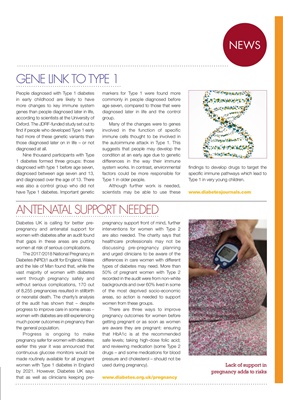 NEWS
GENE LINK TO TYPE 1
ANTENATAL SUPPORT NEEDED
Lack of support in
pregnancy adds to risks
Diabetes UK is calling for better prepregnancy
and antenatal support for
women with diabetes after an audit found
that gaps in these areas are putting
women at risk of serious complications.
The 2017/2018 National Pregnancy in
Diabetes (NPID)1 audit for England, Wales
and the Isle of Man found that, while the
vast majority of women with diabetes
went through pregnancy safely and
without serious complications, 170 out
of 8,255 pregnancies resulted in stillbirth
or neonatal death. The charity's analysis
of the audit has shown that - despite
progress to improve care in some areas -
women with diabetes are still experiencing
much poorer outcomes in pregnancy than
the general population.
Progress is ongoing to make
pregnancy safer for women with diabetes;
earlier this year it was announced that
continuous glucose monitors would be
made routinely available for all pregnant
women with Type 1 diabetes in England
by 2021. However, Diabetes UK says
that as well as clinicians keeping prepregnancy
support front of mind, further
interventions for women with Type 2
are also needed. The charity says that
healthcare professionals may not be
discussing pre-pregnancy planning
and urged clinicians to be aware of the
differences in care women with different
types of diabetes may need. More than
50% of pregnant women with Type 2
recorded in the audit were from non-white
backgrounds and over 60% lived in some
of the most deprived socio-economic
areas, so action is needed to support
women from these groups.
There are three ways to improve
pregnancy outcomes for women before
getting pregnant or as soon as women
are aware they are pregnant: ensuring
that HbA1c is at the recommended
safe levels; taking high-dose folic acid;
and reviewing medication (some Type 2
drugs - and some medications for blood
pressure and cholesterol - should not be
used during pregnancy).
People diagnosed with Type 1 diabetes
in early childhood are likely to have
more changes to key immune system
genes than people diagnosed later in life,
according to scientists at the University of
Oxford. The JDRF-funded study set out to
find if people who developed Type 1 early
had more of these genetic variants than
those diagnosed later on in life - or not
diagnosed at all.
Nine thousand participants with Type
1 diabetes formed three groups: those
diagnosed with type 1 before age seven,
diagnosed between age seven and 13,
and diagnosed over the age of 13. There
was also a control group who did not
have Type 1 diabetes. Important genetic
markers for Type 1 were found more
commonly in people diagnosed before
age seven, compared to those that were
diagnosed later in life and the control
group.
Many of the changes were to genes
involved in the function of specific
immune cells thought to be involved in
the autoimmune attack in Type 1. This
suggests that people may develop the
condition at an early age due to genetic
differences in the way their immune
system works. In contrast, environmental
factors could be more responsible for
Type 1 in older people.
Although further work is needed,
scientists may be able to use these
findings to develop drugs to target the
specific immune pathways which lead to
Type 1 in very young children.