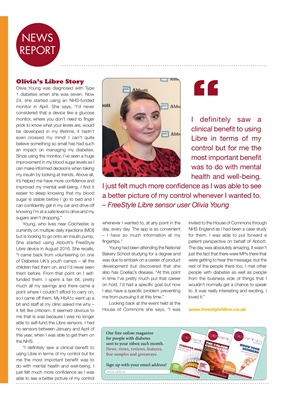 NEWS
NEWS
REPORT
Olivia's Libre Story
Olivia Young was diagnosed with Type
1 diabetes when she was seven. Now
24, she started using an NHS-funded
monitor in April. She says, "I'd never
considered that a device like a glucose
monitor, where you don't need to finger
prick to know what your levels are, would
be developed in my lifetime, it hadn't
even crossed my mind! I can't quite
believe something so small has had such
an impact on managing my diabetes.
Since using the monitor, I've seen a huge
improvement in my blood sugar levels as I
can make informed decisions when taking
my insulin by looking at trends. Above all,
it's helped me have more confidence and
improved my mental well-being, I find it
easier to sleep knowing that my blood
sugar is stable before I go to bed and I
can confidently get in my car and drive off
knowing I'm at a safe level to drive and my
sugars aren't dropping."
Young, who lives near Colchester, is
currently on multiple daily injections (MDI)
but is looking to go onto an insulin pump.
She started using Abbott's FreeStyle
Libre device in August 2016. She recalls,
"I came back from volunteering on one
of Diabetes UK's youth camps - all the
children had them on, and I'd never seen
them before. From that point on I selffunded
them. I spent a fair bit, pretty
much all my savings and there came a
point where I couldn't afford to carry on,
so I came off them. My HbA1c went up a
bit and staff at my clinic asked me why -
it felt like criticism. It seemed obvious to
me that is was because I was no longer
able to self-fund the Libre sensors. I had
no sensors between January and April of
this year, when I was able to get them on
the NHS.
"I definitely saw a clinical benefit to
using Libre in terms of my control but for
me the most important benefit was to
do with mental health and well-being. I
just felt much more confidence as I was
able to see a better picture of my control
whenever I wanted to, at any point in the
day, every day. The app is so convenient
- I have so much information at my
fingertips."
Young had been attending the National
Bakery School studying for a degree and
was due to embark on a career of product
development but discovered that she
also has Coeliac's disease. "At this point
in time I've pretty much put that career
on hold. I'd had a specific goal but now
I also have a specific problem preventing
me from pursuing it at this time."
Looking back at the event held at the
House of Commons she says, "I was "I definitely saw a
clinical benefit to using
Libre in terms of my
control but for me the
most important benefit
was to do with mental
health and well-being.
I just felt much more confidence as I was able to see
a better picture of my control whenever I wanted to.
- FreeStyle Libre sensor user Olivia Young
invited to the House of Commons through
NHS England as I had been a case study
for them. I was able to put forward a
patient perspective on behalf of Abbott.
The day was absolutely amazing, it wasn't
just the fact that there were MPs there that
were getting to hear the message, but the
rest of the people there too. I met other
people with diabetes as well as people
from the business side of things that
wouldn't normally get a chance to speak
to. It was really interesting and exciting. I
loved it."
Our free online magazine
for people with diabetes
sent to your inbox each month.
News, views, reviews, features,
free samples and giveaways.
Sign up with your email address!
email address