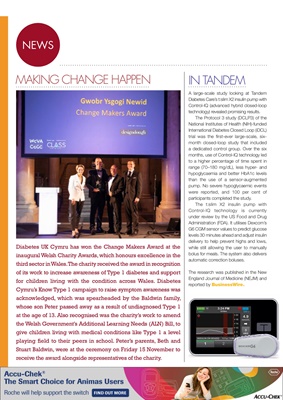 NEWS
MAKING CHANGE HAPPEN IN TANDEM
A large-scale study looking at Tandem
Diabetes Care's t:slim X2 insulin pump
with Control-IQ advanced hybrid closedloop technology has revealed
promising
results.
The Protocol 3 study (DCLP3) of the
National Institutes of Health (NIH)-funded
International Diabetes Closed Loop (iDCL)
trial was the first-ever large-scale, sixmonth closed-loop study that included
a dedicated control group. Over the six
months, use of Control-IQ technology led
to a higher percentage of time spent in
range (70-180 mg/dL), less hyper- and
hypoglycaemia and better HbA1c levels
than the use of a sensor-augmented
pump. No severe hypoglycaemic events
were reported, and 100 per cent of
participants completed the study.
The t:slim X2 insulin pump with
Control-IQ technology is currently
under review by the US Food and Drug
Administration (FDA). It utilises Dexcom's
G6 CGM sensor values to predict glucose
levels 30 minutes ahead and adjust insulin
delivery to help prevent highs and lows,
while still allowing the user to manually
bolus for meals. The system also delivers
automatic correction boluses.
The research was published on
NEJM.org
Diabetes UK Cymru has won the Change Makers Award at the
inaugural Welsh Charity Awards, which honours excellence in the
third sector in Wales. The charity received the award in recognition
of its work to increase awareness of Type 1 diabetes and support
for children living with the condition across Wales. Diabetes
Cymru's Know Type 1 campaign to raise symptom awareness was
acknowledged, which was spearheaded by the Baldwin family,
whose son Peter passed away as a result of undiagnosed Type 1
at the age of 13. Also recognised was the charity's work to amend
the Welsh Government's Additional Learning Needs (ALN) Bill, to
give children living with medical conditions like Type 1 a level
playing field to their peers in school. Peter's parents, Beth and
Stuart Baldwin, were at the ceremony on Friday 15 November to
receive the award alongside representatives of the charity.