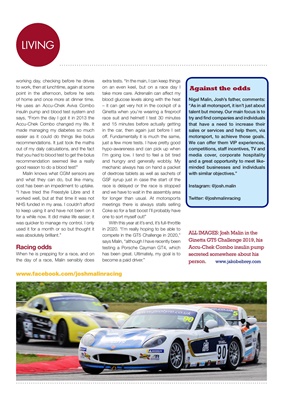 LIVINGLIVING
working day, checking before the drives
to work, then at lunchtime, again at some
point in the afternoon, before he sets
of home and once more at dinner time.
He uses an Accu-Chek Aviva Combo
insulin pump and blood test system and
says, "From the day I got it in 2013 the
Accu-Chek Combo changed my life. It
made managing my diabetes so much
easier as it could do things like bolus
recommendations. It just took the maths
out of my daily calculations, and the fact
that you had to blood test to get the bolus
recommendation seemed like a really
good reason to do a blood test!"
Malin knows what CGM sensors are
and what they can do, but like many,
cost has been an impediment to uptake.
"I have tried the Freestyle Libre and it
worked well, but at that time it was not
NHS funded in my area. I couldn't afford
to keep using it and have not been on it
for a while now. It did make life easier; it
was quicker to manage my control. I only
used it for a month or so but thought it
was absolutely brilliant."
Racing odds
When he is prepping for a race, and on
the day of a race, Malin sensibly does
extra tests. "In the main, I can keep things
on an even keel, but on a race day I
take more care. Adrenalin can affect my
blood glucose levels along with the heat
- it can get very hot in the cockpit of a
Ginetta when you're wearing a fireproof
race suit and helmet! I test 30 minutes
and 15 minutes before actually getting
in the car, then again just before I set
off. Fundamentally it is much the same,
just a few more tests. I have pretty good
hypo-awareness and can pick up when
I'm going low. I tend to feel a bit tired
and hungry and generally wobbly. My
mechanic always has on hand a packet
of dextrose tablets as well as sachets of
GSF syrup just in case the start of the
race is delayed or the race is stopped
and we have to wait in the assembly area
for longer than usual. At motorsports
meetings there is always stalls selling
Coke so for a fast boost I'll probably have
one to sort myself out!"
With this year at it's end, it's full-throttle
in 2020. "I'm really hoping to be able to
compete in the GT5 Challenge in 2020,"
says Malin, "although I have recently been
testing a Porsche Cayman GT4, which
has been great. Ultimately, my goal is to
become a paid driver."
Nigel Malin, Josh's father, comments:
"As in all motorsport, it isn't just about
talent but money. Our main focus is to
try and find companies and individuals
that have a need to increase their
sales or services and help them, via
motorsport, to achieve those goals.
We can offer them VIP experiences,
competitions, staff incentives, TV and
media cover, corporate hospitality
and a great opportunity to meet likeminded
businesses and individuals
with similar objectives."
Instagram: @josh.malin
Twitter: @joshmalinracing
ALL IMAGES: Josh Malin
in the Ginetta GT5 junior
championships 2019, his AccuChek Combo insulin pump
sequestered somewhere about
his person.
Against the odds