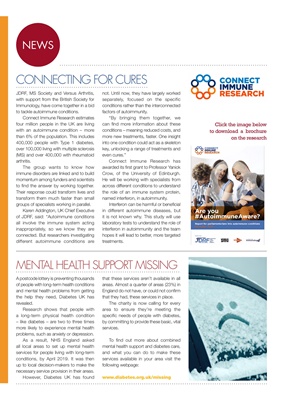 NEWS
CONNECTING FOR CURES
JDRF, MS Society and Versus Arthritis,
with support from the British Society for
Immunology, have come together in a bid
to tackle autoimmune conditions.
Connect Immune Research estimates
four million people in the UK are living
with an autoimmune condition - more
than 6% of the population. This includes
400,000 people with Type 1 diabetes,
over 100,000 living with multiple sclerosis
(MS) and over 400,000 with rheumatoid
arthritis.
The group wants to know how
immune disorders are linked and to build
momentum among funders and scientists
to find the answer by working together.
Their response could transform lives and
transform them much faster than small
groups of specialists working in parallel.
Karen Addington, UK Chief Executive
of JDRF, said: "Autoimmune conditions
all involve the immune system acting
inappropriately, so we know they are
connected. But researchers investigating
different autoimmune conditions are
not. Until now, they have largely worked
separately, focused on the specific
conditions rather than the interconnected
factors of autoimmunity.
"By bringing them together, we
can find more information about these
conditions - meaning reduced costs, and
more new treatments, faster. One insight
into one condition could act as a skeleton
key, unlocking a range of treatments and
even cures."
Connect Immune Research has
awarded its first grant to Professor Yanick
Crow, of the University of Edinburgh.
He will be working with specialists from
across different conditions to understand
the role of an immune system protein,
named interferon, in autoimmunity.
Interferon can be harmful or beneficial
in different autoimmune diseases, but
it is not known why. This study will use
laboratory tests to understand the role of
interferon in autoimmunity and the team
hopes it will lead to better, more targeted
treatments.
Click the image below
to download a brochure
on the research
A postcode lottery is preventing thousands
of people with long-term health conditions
and mental health problems from getting
the help they need, Diabetes UK has
revealed.
Research shows that people with
a long-term physical health condition
- like diabetes - are two to three times
more likely to experience mental health
problems, such as anxiety or depression.
As a result, NHS England asked
all local areas to set up mental health
services for people living with long-term
conditions, by April 2019. It was then
up to local decision-makers to make the
necessary service provision in their areas.
However, Diabetes UK has found
that these services aren't available in all
areas. Almost a quarter of areas (23%) in
England do not have, or could not confirm
that they had, these services in place.
The charity is now calling for every
area to ensure they're meeting the
specific needs of people with diabetes,
by committing to provide these basic, vital
services.
To find out more about combined
mental health support and diabetes care,
and what you can do to make these
services available in your area visit the
following webpage:
MENTAL HEALTH SUPPORT MISSING