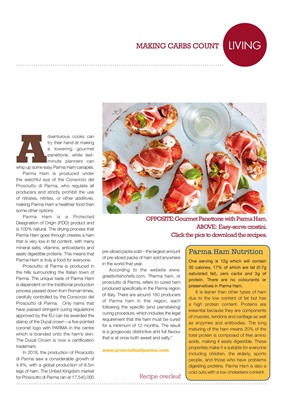 KITLIVING
Adventurous cooks can
try their hand at making
a towering gourmet
panettone, while lastminute planners can
whip up some easy Parma Ham canapés.
Parma Ham is produced under
the watchful eye of the Consorzio del
Prosciutto di Parma, who regulate all
producers and strictly prohibit the use
of nitrates, nitrites, or other additives,
making Parma Ham a healthier food than
some other options.
Parma Ham is a Protected
Designation of Origin (PDO) product and
is 100% natural. The drying process that
Parma Ham goes through creates a ham
that is very low in fat content, with many
mineral salts, vitamins, antioxidants and
easily digestible proteins. This means that
Parma Ham is truly a food for everyone.
Prosciutto di Parma is produced in
the hills surrounding the Italian town of
Parma. The unique taste of Parma Ham
is dependent on the traditional production
process passed down from Roman times,
carefully controlled by the Consorzio del
Prosciutto di Parma. Only hams that
have passed stringent curing regulations
approved by the EU can be awarded the
stamp of the Ducal crown - a five-pointed
coronet logo with PARMA in the centre
which is branded onto the ham's skin.
The Ducal Crown is now a certification
trademark.
In 2018, the production of Prosciutto
di Parma saw a considerable growth of
4.8%, with a global production of 8.5m
legs of ham. The United Kingdom market
for Prosciutto di Parma ran at 17,540,000
One serving is 12g which will contain
30 calories, 17% of which are fat (0.7g
saturated fat), zero carbs and 3g of
protein. There are no colourants or
preservatives in Parma Ham.
It is leaner than other types of ham
due to the low content of fat but has
a high protein content. Proteins are
essential because they are components
of muscles, tendons and cartilage as well
as enzymes and antibodies. The long
maturing of the ham means 20% of the
total protein is composed of free amino
acids, making it easily digestible. These
properties make it a suitable for everyone
including children, the elderly, sports
people, and those who have problems
digesting proteins. Parma Ham is also a
cold cuts with a low cholesterol content.
Parma Ham Nutrition
MAKING CARBS COUNT
pre-sliced packs sold - the largest amount
of pre-sliced packs of ham sold anywhere
in the world that year.
According to the website www.
greatbritishchefs.com, "Parma ham, or
prosciutto di Parma, refers to cured ham
produced specifically in the Parma region
of Italy. There are around 160 producers
of Parma ham in this region, each
following the specific (and painstaking)
curing procedure, which includes the legal
requirement that the ham must be cured
for a minimum of 12 months. The result
is a gorgeously distinctive and full flavour
that is at once both sweet and salty."
OPPOSITE: Gourmet Panettone with Parma Ham, ABOVE: Easyserve
crostini. Click the pics to download the recipes.
Recipe overleaf