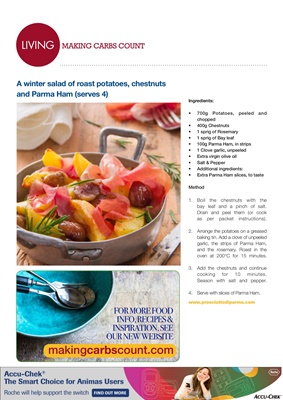 LIVINGLIVING
A winter salad of roast potatoes, chestnuts
and Parma Ham (serves 4)
Ingredients:
• 700g Potatoes, peeled and
chopped
• 400g Chestnuts
• 1 sprig of Rosemary
• 1 sprig of Bay leaf
• 100g Parma Ham, in strips
• 1 Clove garlic, unpeeled
• Extra virgin olive oil
• Salt & Pepper
• Additional ingredients:
• Extra Parma Ham slices, to taste
MAKING CARBS COUNT
FOR MORE FOOD
INFO, RECIPES &
INSPIRATION, SEE
OUR NEW WEBSITE
makingcarbscount.com
Method
1. Boil the chestnuts with the
bay leaf and a pinch of salt.
Drain and peel them (or cook
as per packet instructions).
2. Arrange the potatoes on a greased
baking tin. Add a clove of unpeeled
garlic, the strips of Parma Ham,
and the rosemary. Roast in the
oven at 200°C for 15 minutes.
3. Add the chestnuts and continue
cooking for 10 minutes.
Season with salt and pepper.
4. Serve with slices of Parma Ham.