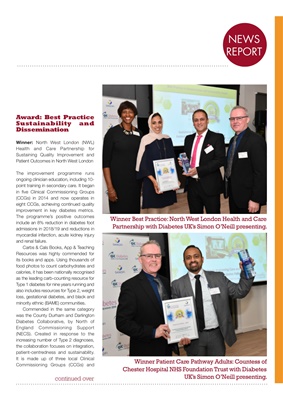 NEWS
NEWS
REPORT
Winner Patient Care Pathway Adults: Countess of Chester
Hospital NHS Foundation Trust with Diabetes UK's Simon
O'Neil presenting.
Award: Best Practice
Sustainability and
Dissemination
Winner: North West London (NWL)
Health and Care Partnership for
Sustaining Quality Improvement and
Patient Outcomes in North West London
The improvement programme runs
ongoing clinician education, including 10-
point training in secondary care. It began
in five Clinical Commissioning Groups
(CCGs) in 2014 and now operates in
eight CCGs, achieving continued quality
improvement in key diabetes metrics. The
programme Positive outcomes include an
8% reduction in diabetes foot admissions
in 2018/19 and reductions in myocardial
infarction, acute kidney injury and renal
failure.
Carbs & Cals Books, App & Teaching
Resources was highly commended for
its books and apps. Using thousands of
food photos to count carbohydrates and
calories, it has been nationally recognised
as the leading carb-counting resource for
Type 1 diabetes for nine years running and
also includes resources for Type 2, weight
loss, gestational diabetes, and black and
minority ethnic (BAME) communities.
Commended in the same category
was the County Durham and Darlington
Diabetes Collaborative, by North of
England Commissioning Support
(NECS). Created in response to the
increasing number of Type 2 diagnoses,
the collaboration focuses on integration,
patient-centredness and sustainability.
It is made up of three local Clinical
Commissioning Groups (CCGs) and
Winner Best Practice: North West London Health and Care
Partnership with Diabetes UK's Simon O'Neil presenting.
continued over