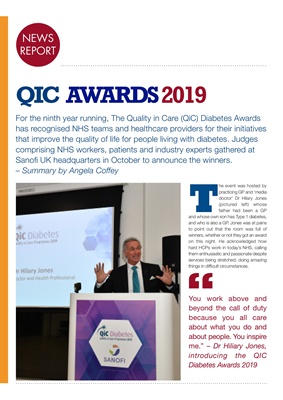 NEWS
QIC AWARDS 2019
For the ninth year running, The Quality in Care (QiC) Diabetes Awards
has recognised NHS teams and healthcare providers for their initiatives
that improve the quality of life for people living with diabetes. Judges
comprising NHS workers, patients and industry experts gathered at
Sanofi UK headquarters in October to announce the winners.
- Summary by Angela Coffey
T
he event was hosted by
practicing GP and 'media
doctor' Dr Hilary Jones
(pictured left) whose
father had been a GP
and whose own son has Type 1 diabetes,
and who is also a GP. Jones was at pains
to point out that the room was full of
winners, whether or not they got an award
on this night. He acknowledged how
hard HCPs work in today's NHS, calling
them enthusiastic and passionate despite
services being stretched, doing amazing
things in difficult circumstances.
NEWSNEWS
REPORT
You work above and
beyond the call of duty
because you all care
about what you do and
about people. You inspire
me." - Dr Hiliary Jones,
introducing the Quality in
Care, Diabetes, Awards
2019
"