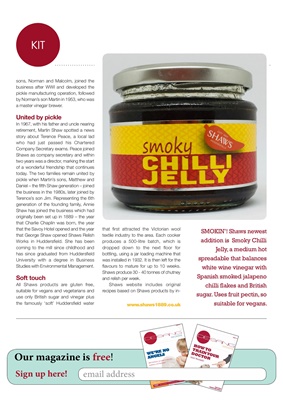 KIT
SMOKIN'! Shaws newest
addition is Smoky Chilli
Jelly, a medium hot
spreadable that balances
white wine vinegar with
Spanish smoked jalapeno
chilli flakes and British
sugar. Uses fruit pectin, so
suitable for vegans.
business after WWI and developed the
pickle manufacturing operation, followed
by Norman's son Martin in 1953, who was
a master vinegar brewer.
United by pickle
In 1967, with his father and uncle nearing
retirement, Martin Shaw spotted a news
story about Terence Peace, a local lad
who had just passed his Chartered
Company Secretary exams. Peace joined
Shaws as company secretary and within
two years was a director, marking the start
of a wonderful friendship that continues
today. The two families remain united by
pickle when Martin's sons, Matthew and
Daniel - the fifth Shaw generation - joined
the business in the 1980s, later joined by
Terence's son Jim. Representing the 6th
generation of the founding family, Annie
Shaw has joined the business which had
originally been set up in 1889 - the year
that Charlie Chaplin was born, the year
that the Savoy Hotel opened and the year
that George Shaw opened Shaws Relish
Works in Huddersfield. She has been
coming to the mill since childhood and
has since graduated from Huddersfield
University with a degree in Business
Studies with Environmental Management.
Soft touch
All Shaws products are gluten free,
suitable for vegans and vegetarians and
use only British sugar and vinegar plus
the famously 'soft' Huddersfield water
that first attracted the Victorian wool www.shaws1889.co.uk
ISSUE 30
MAGAZINE
DESANG
PLUS • New Products • Groovy giveaways • News (for T1 and T2)
WE'RE NO
ANGELS
But business as usual is best for
diabetics at Christmas
MAKING
CARBS COUNT:
CHESTNUTS ROASTING
ON OPEN FIRES
Our magazine is free!
Sign up here! email address
textile industry to the area. Each cooker
produces a 500-litre batch, which is
dropped down to the next floor for
bottling, using a jar loading machine that
was installed in 1932. It is then left for the
flavours to mature for up to 10 weeks.
Shaws produce 30 - 40 tonnes of chutney
and relish per week.
Shaws website includes original
recipes based on Shaws products by inhouse food technologist Kate Pearson.