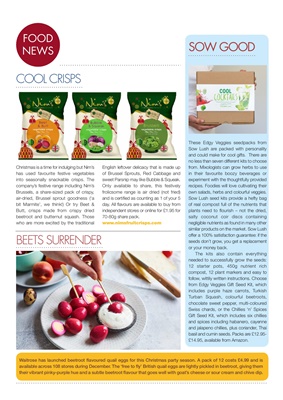 LIVINGLIVING
FOOD
NEWS
BEETS SURRENDER
Waitrose has launched beetroot flavoured quail eggs for this Christmas party season. A pack of 12 costs £4.99 and is
available across 108 stores during December. The 'free to fly' British quail eggs are lightly pickled in beetroot, giving them
their vibrant pinky-purple hue and a subtle beetroot flavour that goes well with goat's cheese or sour cream and chive dip.
SOW GOOD
These Edgy Veggies seedpacks from
Sow Lush are packed with personality
and could make for cool gifts. There are
no less than seven different kits to choose
from. Mixologists can grow herbs to use
in their favourite boozy beverages or
experiment with the thoughtfully provided
recipes. Foodies will love cultivating their
own salads, herbs and colourful veggies.
Sow Lush seed kits provide a hefty bag
of real compost full of the nutrients that
plants need to flourish - not the dried,
salty coconut coir discs containing
negligible nutrients as found in many other
similar products on the market. Sow Lush
offer a 100% satisfaction guarantee: if the
seeds don't grow, you get a replacement
or your money back.
The kits also contain everything
needed to successfully grow the seeds:
12 starter pots, 450g nutrient rich
compost, 12 plant markers and easy to
follow, wittily written instructions. Choose
from Edgy Veggies Gift Seed Kit, which
includes purple haze carrots, Turkish
Turban Squash, colourful beetroots,
chocolate sweet pepper, multi-coloured
Swiss chards, or the Chillies 'n' Spices
Gift Seed Kit, which includes six chillies
and spices including habanero, cayenne
and jalapeno chillies, plus coriander, Thai
basil and cumin seeds. Packs are £12.95-
£14.95, available from Amazon.
COOL CRISPS
Christmas is a time for indulging but Nim's
has used favourite festive vegetables
into seasonally snackable crisps. The
company's festive range including Nim's
Brussels, a share-sized pack of crispy,
air-dried, Brussel sprout goodness ('a
bit Marmite', we think!) Or try Beet &
Butt, crisps made from crispy dried
beetroot and butternut squash. Those
who are more excited by the traditional
English leftover delicacy that is made up
of Brussel Sprouts, Red Cabbage and
sweet Parsnip may like Bubble & Squeak.
Only available to share, this festively
frolicsome range is air dried (not fried)
and is certified as counting as 1 of your 5
day. All flavours are available to buy from
independent stores or online for £1.95 for
70-80g share pack.