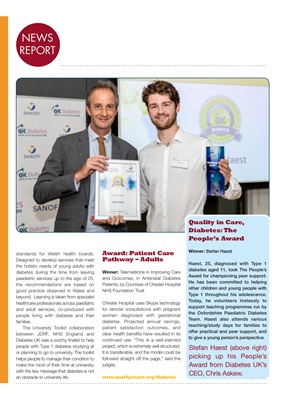 NEWS
NEWS
REPORT
Quality in Care,
Diabetes: The
People's Award
Winner: Stefan Haest
Haest, 25, diagnosed with Type 1
diabetes aged 11, took The People's
Award for championing peer support.
He has been committed to helping
other children and young people with
Type 1 throughout his adolescence.
Today, he volunteers tirelessly to
support teaching programmes run by
the Oxfordshire Paediatric Diabetes
Team. Haest also attends various
teaching/study days for families to
offer practical and peer support, and
to give a young person's perspective.
Stefan Haest (above right) picking
up his People's Award from
Diabetes UK's CEO, Chris Askew.
standards for Welsh health boards.
Designed to develop services that meet
the holistic needs of young adults with
diabetes during the time from leaving
paediatric services up to the age of 25,
the recommendations are based on
good practice observed in Wales and
beyond. Learning is taken from specialist
healthcare professionals across paediatric
and adult services, co-produced with
people living with diabetes and their
families.
The University Toolkit collaboration
between JDRF, NHS England and
Diabetes UK was a worthy finalist to help
people with Type 1 diabetes studying at
or planning to go to university. The toolkit
helps people to manage their condition to
make the most of their time at university,
with the key message that diabetes is not
an obstacle to university life.
Award: Patient Care
Pathway - Adults
Winner: Telemedicine in Improving Care
and Outcomes, in Antenatal Diabetes
Patients, by Countess of Chester Hospital
NHS Foundation Trust
Chester Hospital uses Skype technology
for remote consultations with pregnant
women diagnosed with gestational
diabetes. Projected annual savings,
patient satisfaction outcomes, and
clear health benefits have resulted in its
continued use. "This is a well-planned
project, which is extremely well structured.
It is transferable, and the model could be
followed straight off the page," said the
judges.