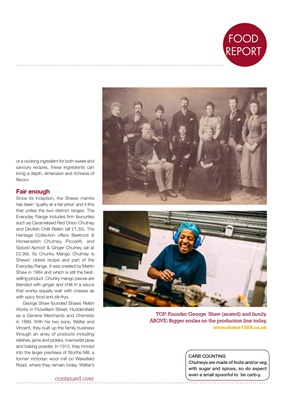 KITLIVING
FOOD
REPORT
or a cooking ingredient for both sweet and
savoury recipes, these ingredients can
bring a depth, dimension and richness of
flavour.
Fair enough
Since its inception, the Shaws mantra
has been 'quality at a fair price' and it this
that unites the two distinct ranges. The
Everyday Range includes firm favourites
such as Caramelised Red Onion Chutney
and Devilish Chilli Relish (all £1.35). The
Heritage Collection offers Beetroot &
Horseradish Chutney, Piccalilli, and
Spiced Apricot & Ginger Chutney (all at
£2.99). Its Chunky Mango Chutney is
Shaws' oldest recipe and part of the
Everyday Range. It was created by Martin
Shaw in 1984 and which is still the bestselling
product. Chunky mango pieces are
blended with ginger and chilli in a sauce
that works equally well with cheese as
with spicy food and stir-frys.
George Shaw founded Shaws Relish
Works in Fitzwilliam Street, Huddersfield
as a General Merchants and Chemists
in 1889. With his two sons, Walter and
Vincent, they built up the family business
through an array of products including
relishes, jams and pickles, marrowfat peas
and baking powder. In 1913, they moved
into the larger premises of Storths Mill, a
former Victorian wool mill on Wakefield
Road, where they remain today. Walter's
sons, Norman and Malcolm, joined the
continued over
TOP: Founder George Shaw (seated) and family.ABOVE:
Bigger smiles on the production line today.
CARB COUNTING
Chutneys are made of fruits and/or veg
with sugar and spices, so do expect
even a small spoonful to be carb-y.