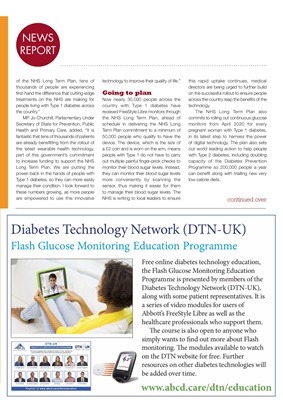 NEWS
of the NHS Long Term Plan, tens of
thousands of people are experiencing
first-hand the difference that cutting-edge
treatments on the NHS are making for
people living with Type 1 diabetes across
the country."
MP Jo Churchill, Parliamentary Under
Secretary of State for Prevention, Public
Health and Primary Care, added, "It is
fantastic that tens of thousands of patients
are already benefitting from the rollout of
the latest wearable health technology,
part of this government's commitment
to increase funding to support the NHS
Long Term Plan. We are putting the
power back in the hands of people with
Type 1 diabetes, so they can more easily
manage their condition. I look forward to
these numbers growing, as more people
are empowered to use this innovative
technology to improve their quality of life."
Going to plan
Now nearly 30,000 people across the
country with Type 1 diabetes have
received FreeStyle Libre monitors through
the NHS Long Term Plan, ahead of
schedule in delivering the NHS Long
Term Plan commitment to a minimum of
50,000 people who qualify to have the
device. The device is the size of a £2 coin
and worn on the arm, means people with
Type 1 do not have to carry out multiple
painful finger-prick checks to monitor
their blood sugar levels. Instead, they
can monitor their blood sugar levels more
conveniently by scanning the sensor,
in this way makes it easier for them to
manage their blood sugar levels. The
NHS is writing to local leaders to ensure
this rapid uptake continues, medical
directors are being urged to further build
on the successful rollout to ensure people
across the country reap the benefits of the
technology.
The NHS Long Term Plan also
commits to rolling out continuous glucose
monitors from April 2020 for every
pregnant woman with Type 1 diabetes,
in its latest step to harness the power
of digital technology. The plan also sets
out world leading action to help people
with Type 2 diabetes, including doubling
capacity of the Diabetes Prevention
Programme so 200,000 people a year
can benefit along with trialling new very
low-calorie diets.
continued over
NEWS
REPORT