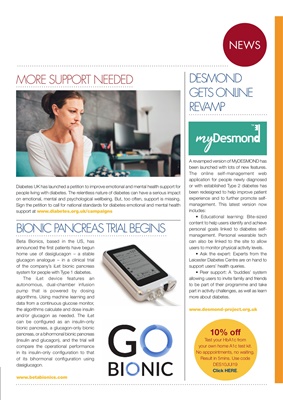 NEWS
MORE SUPPORT NEEDED DESMOND
GETS ONLINE
REVAMP
BIONIC PANCREAS TRIAL BEGINS
A revamped version of MyDESMOND has
been launched with lots of new features.
The online self-management web
application for people newly diagnosed
or with established Type 2 diabetes has
been redesigned to help improve patient
experience and to further promote selfmanagement.
This latest version now
includes:
• Educational learning: Bite-sized
content to help users identify and achieve
personal goals linked to diabetes selfmanagement. Personal wearable tech
can also be linked to the site to allow
users to monitor physical activity levels.
• Ask the expert: Experts from the
Leicester Diabetes Centre are on hand to
support users' health queries.
• Peer support: A 'buddies' system
allowing users to invite family and friends
to be part of their programme and take
part in activity challenges, as well as learn
more about diabetes.
Beta Bionics, based in the US, has
announced the first patients have begun
home use of dasiglucagon - a stable
glucagon analogue - in a clinical trial
of the company's iLet bionic pancreas
system for people with Type 1 diabetes.
The iLet device features an
autonomous, dual-chamber infusion
pump that is powered by dosing
algorithms. Using machine learning and
data from a continuous glucose monitor,
the algorithms calculate and dose insulin
and/or glucagon as needed. The iLet
can be configured as an insulin-only
bionic pancreas, a glucagon-only bionic
pancreas, or a bihormonal bionic pancreas
(insulin and glucagon), and the trial will
compare the operational performance
in its insulin-only configuration to that
of its bihormonal configuration using
dasiglucagon.
Diabetes UK has launched a petition to improve emotional and mental health support for
people living with diabetes. The relentless nature of diabetes can have a serious impact
on emotional, mental and psychological wellbeing. But, too often, support is missing.
Sign the petition to call for national standards for diabetes emotional and mental health
support at www.diabetes.org.uk/campaigns
10% off
Test your HbA1c from
your own home A1c test kit.
No apppointments, no waiting.
Result in 5mins. Use code
xxxxxx.
Click HERE.