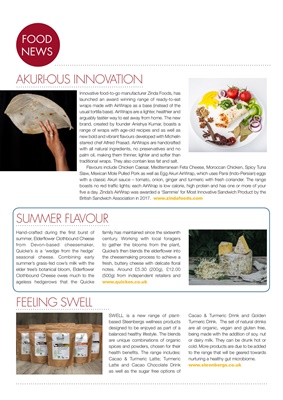 KIT
FOOD
NEWS
AKURI-OUS INNOVATION
SUMMER FLAVOUR
Innovative food-to-go manufacturer Zinda Foods, has
launched an award winning range of ready-to-eat
wraps made with AirWraps as a base (instead of the
usual tortilla base). AirWraps are a lighter, healthier and
arguably tastier way to eat away from home. The new
brand, created by founder Anishya Kumar, boasts a
range of wraps with age-old recipes and as well as
new bold and vibrant flavours developed with Michelin
starred chef Alfred Prasad. AirWraps are handcrafted
with all natural ingredients, no preservatives and no
palm oil, making them thinner, lighter and softer than
traditional wraps. They also contain less fat and salt.
Flavours include Chicken Caesar, Mediterranean Feta Cheese, Moroccan Chicken, Spicy Tuna
Slaw, Mexican Mole Pulled Pork as well as Egg Akuri AirWrap, which uses Parsi (Indo-Persian) eggs
with a classic Akuri sauce - tomato, onion, ginger and turmeric with fresh coriander. The range
boasts no red traffic lights; each AirWrap is low calorie, high protein and has one or more of your
five a day. Zinda's AirWrap was awarded a 'Sammie' for Most Innovative Sandwich Product by the
British Sandwich Association in 2017. www.zindafoods.com
Hand-crafted during the first burst of
summer, Elderflower Clothbound Cheese
from Devon-based cheesemaker,
Quicke's is a 'wedge from the hedge'
seasonal cheese. Combining early
summer's grass-fed cow's milk with the
elder tree's botanical bloom, Elderflower
Clothbound Cheese owes much to the
ageless hedgerows that the Quicke
family has maintained since the sixteenth
century. Working with local foragers
to gather the blooms from the plant,
Quicke's then blends the elderflower into
the cheesemaking process to achieve a
fresh, buttery cheese with delicate floral
notes. Around £5.30 (200g), £12.00
(500g) from independent retailers and
SWELL is a new range of plantbased Steenbergs wellness products
designed to be enjoyed as part of a
balanced healthy lifestyle. The blends
are unique combinations of organic
spices and powders, chosen for their
health benefits. The range includes:
Cacao & Turmeric Latte; Turmeric
Latte and Cacao Chocolate Drink
as well as the sugar free options of
Cacao & Turmeric Drink and Golden
Turmeric Drink. The set of natural drinks
are all organic, vegan and gluten free.
Their versatility allows them to be made
with the addition of soy, nut or dairy
milks, can be drunk delicious hot or cold.
More products are due to be added to
the range that will be geared towards
nurturing a healthy gut microbiome.
FEELING SWELL