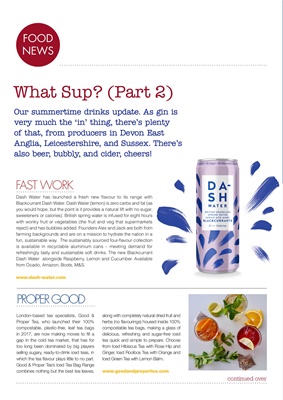 LIVINGLIVING
FOOD
NEWS
Our summertime drinks update. As gin is
very much the 'in' thing, there's plenty
of that, from producers in Devon East
Anglia, Leicestershire, and Sussex. There's
also beer, bubbly, and cider, cheers!
What Sup? (Part 2)
FAST WORK
Dash Water has launched a fresh new flavour to its range with
Blackcurrant Dash Water. Dash Water (lemon) is zero carbs and fat (as
you would hope, but the point is it provides a natural lift with no sugar,
sweeteners or calories). British spring water is infused for eight hours
with wonky fruit or vegetables (the fruit and veg that supermarkets
reject) and added to bubbles. Founders Alex and Jack are both from
farming backgrounds and are on a mission to hydrate the nation in a
fun, sustainable way. The sustainably sourced four-flavour collection
is available in recyclable aluminium cans - meeting demand from the
consciously living consumer for refreshingly tasty and sustainable
soft drinks. The new Blackcurrant Dash Water alongside Raspberry,
Lemon and Cucumber. Available from Ocado, Amazon, Boots, M&S.
PROPER GOOD
London-based tea specialists, Good &
Proper Tea, who launched their 100%
compostable, plastic-free, leaf tea bags
in 2017, are now making moves to fill a
gap in the cold tea market, that has for
too long been dominated by big players
selling sugary, ready-to-drink iced teas, in
which the tea flavour plays little to no part.
Good & Proper Tea's Iced Tea Bag Range
combines nothing but the best tea leaves,
continued over
along with completely natural dried fruit and
herbs (no flavourings) housed inside 100%
compostable tea bags, making a glass of
delicious, refreshing and sugar-free iced
tea quick and simple to prepare. Choose
from Iced Hibiscus Tea with Rose Hip and
Ginger, Iced Rooibos Tea with Orange and
Iced Green Tea with Lemon Balm.